Par Frenchyfries, mercredi 14 septembre 2011 à 13:55 ::: 14381 fois lus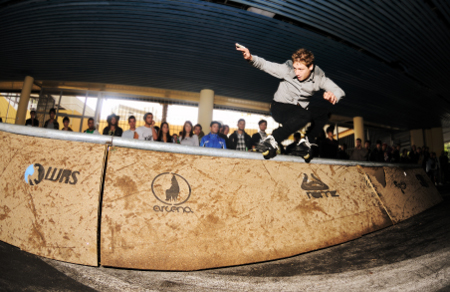 D'entendre un groupe de BMXers rendre honneur à notre petite troupe de patineurs à roulettes au cours de l'ESA street contest fût certainement un des temps fort de la journée. Il est vrai que s'il n'y avait eu le crew JFC, leur volonté et leur dévouement à organiser cet événement, la ville de Montpellier aurait été bien calme en ce samedi pluvieux.
Overhearing a little group of BMXers giving praise to us rollerbladers during the ESA street contest was most definitely one of the highlights of the day. Truth is, if it weren't for the great JFC crew and their will and dedication to put this event together, the city of Montpellier would have been pretty much dead on this rainy Saturday.
En savoir plus
139 commentaires
Tags: 2011 , ESA , Guillaume Legentil , JFC , Montpellier , Samsofy , street contest