Par Frenchyfries, jeudi 27 octobre 2011 à 15:18 ::: 5224 fois lus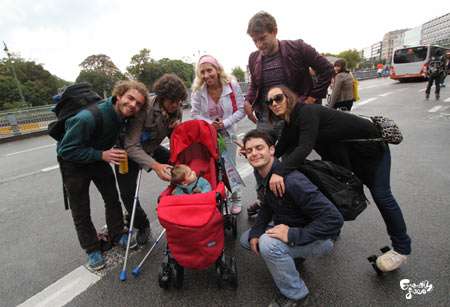 Parfois, essayer de se rappeler certains événements s'apparente à l'exploration d'un rêve brumeux. Une folle équipe s'étant réunie à Bruxelles la veille de l'
Embrouille Sur Le Bitume
, ceux qui ne se sont pas réveillés avec un mal de gorge ont quand même eu à affronter manque de sommeil et gueule de bois... Ce qui n'aide vraisemblablement pas à écrire cet article.
Sometimes, trying to reminisce certain events is kinda like exploring a hazy dream. As a pretty mean crew gathered in Brussels the night before the
Rumble On The Macadam
session, those who didn't wake up with a sore throat still had to deal with sleep deprivation and a serious hangover... Which doesn't help writing this article much.
En savoir plus
8 commentaires
Tags: Brussels , BX'HELL , Embrouille Sur Le Bitume , Rumble On The Macadam , street session