Par Frenchyfries, lundi 30 novembre 2009 à 23:35 ::: 6364 fois lus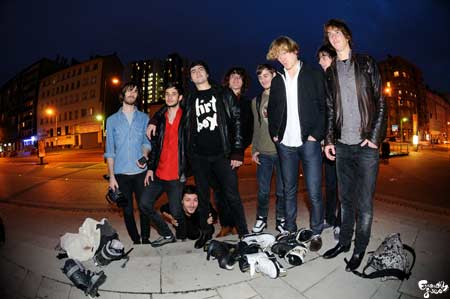 Si l'on en croit les flots de haine déversés quotidiennement sur Internet, le Rock & Roll et les pantalons serrés sont sans doute ce qu'il y a de pire dans le monde du patin à roulettes. Pourtant, si l'on en juge par le très joli trailer de la seconde vidéo du Sean's, et du plaisir qu'ont ces jeunes gens à rouler ensemble, il semble bien qu'il s'agisse en fait de ce qu'il y a de meilleur dans le patin.
Rock & Roll music and tight fitting clothes are the epitom of everything that's wrong with rollerblading. Well, that's if you believe the daily flood of Internet hatred. Judging by how good looking the trailer for the second Le Sean's video is, and how much fun these guys have rolling together, to me it seems that they are everything that's right.
En savoir plus
347 commentaires
Tags: Barbaza , Fred Simcic , Le Sean's , Thomas Pfluger , trailer , Umberto Toselli , Victor Legrand