Par Frenchyfries, mardi 30 août 2011 à 14:10 ::: 7873 fois lus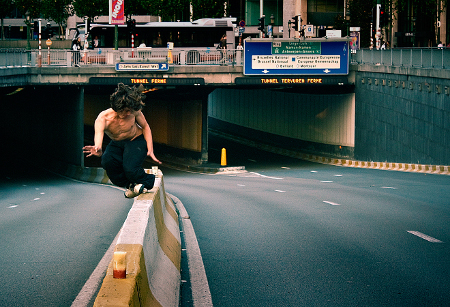 "LA VILLE EST A NOUS !" C'est ce que toute bonne meute de passionnés de patins à roulettes de rue devrait s'écrier au matin de la journée sans voitures, et cette fois ci, le dimanche 18 septembre, nous avons décidé de vous prévenir à temps pour vous faire partager le plaisir d'agresser l'asphalte dans une capitale sans klaxons ni gaz d'échappement, et où la signalisation est réduite à l'état de pure décoration.
"THE CITY IS OURS !" That's what every good pack of enthusiastic street skaters should yell on the morning of the Day Without Cars, and this time, Sunday, Sept. 18, we decided to warn you in time for you to share the pleasure of attacking the asphalt in a capital without horns or exhaust gas, and where the street signs are reduced to a state of pure decoration.
"DE STAD IS VAN ONS!" Dat is wat elke gepassionnerede vagabond van rolschaasten zou roepen 's morgens vroeg op een autoloze-zondag, maar deze keer op zondag 18 september, hebben we beslist u op tijd te verwitigen. Zo dat u zou mee kunnen genieten van de aanval op het capitale asfalt, zonder getoeter, geen ne gas, waar de signalisatie maar een decoratie is.
En savoir plus
20 commentaires
Tags: Brussels , Bruxelles , BX'Hell , Embrouille sur le Bitume , Mathieu Heinnebert , Rumble on the Macadam , Stéphane Mosselmans