Par Frenchyfries, mardi 19 mars 2013 à 13:44 ::: 11732 fois lus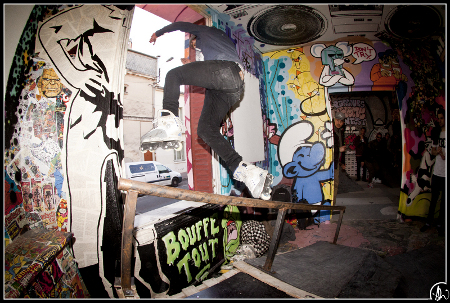 Parcours, c'est l'histoire de 3 figures du roller Montpellierain : AL, Salamech et Smole. Trois mecs un peu fous contactés par l'un des architectes français comptant parmi les plus influents, les plus respectés et les plus renommés. Ne vous y méprenez pas, l'archi n'est pas fan de patin à roulettes et n'a pas besoin de conseil pour concevoir murettes ou autres mains courantes.
Parcours ("Path") is the story of three well known bladers from Montpellier: AL, Salamech and Smole. Three slightly crazy characters who were contacted by one of the most influential, respected and renowned architects in the country. Don't get your mind mixed up: the latter is not a fan of inline skating, nor does he need any advice when it comes to building ledges or down rails.
En savoir plus
21 commentaires
Tags: AL , Home Contest , JFC , Montpellier , Parcours , Salamech , Smole