PHOTOS : THE FISE UNDER RAINY SKIES IN MONTPELLIER
Par Frenchyfries, mercredi 14 septembre 2011 à 13:37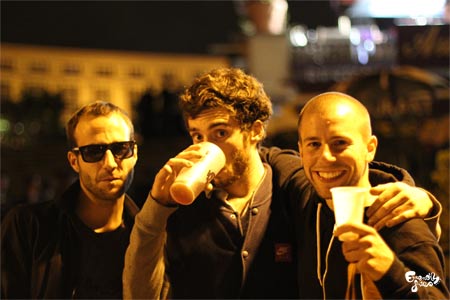 Parfois, les événements les plus malheureux peuvent se transformer en quelque chose de grand. Prenez le
festival de musique de Woodstock
par exemple, quand en 1969 la pluie a fait de ce moment un événement de légende. Et bien, malgré l'absence du camping cette année encore, on pourrait certainement voir le parallèle évident entre le FISE et Woodstock.
Sometimes, the most unfortunate events can turn into something great. Take the
Woodstock music festival
for instance, when back in 1969 the rainy weather turned the whole event into a moment that would forever be legendary. Well, despite the lack of a camping site this year, one could most definitely see the parallel between the FISE and Woodstock.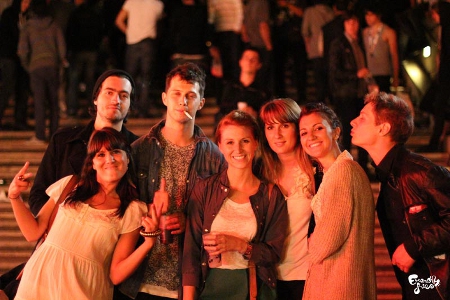 Se déroulant d'habitude dans un climat ensoleillé et sous un ciel radieux, cette année le FISE et toute la ville de Montpellier se sont retrouvés sous la pluie 4 jours durant. Il va sans dire que sans la possibilité de donner le moindre coup de patin, l'événement s'est bientôt transformé en un tout autre type de manifestation.
Usually graced with sunny weather and clear blue skies, this year the FISE and the whole city of Montpellier were plagued by 4 days of terrible weather and never ending rain. Needless to say, with little to no skating going down, the whole thing quickly turned into quite a different type of event.
Puisque rien ou presque ne s'est passé sur le site, et comme la plupart des «athlètes de l'extrême» que nous sommes étions prisonniers de nos chambres d'hôtel, l'alcoolisation collective a débuté très tôt chaque matin, pour se finir très tard dans la nuit, en laissant certains avec un bon mal de crâne, et d'autres avec les deux jambes brisées.
Since pretty much nothing was happening on site, and as most of us "extreme sports athletes" were trapped in our hotel rooms, the drinking binge would then start pretty early every morning, and end fairly late at night. Leaving some with a serious headache, and others with two broken legs.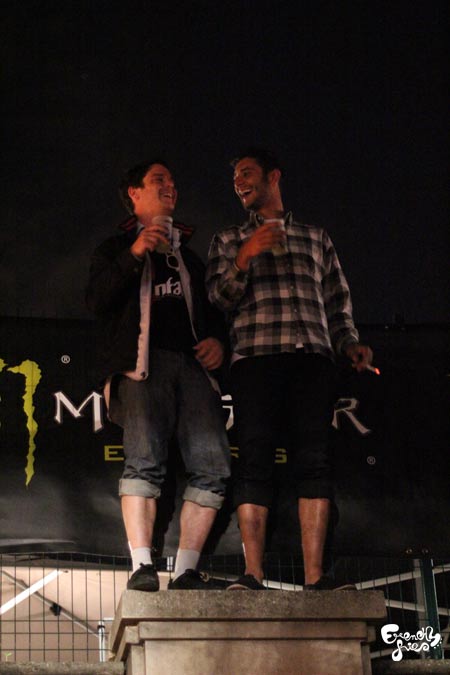 Heureusement, la météo s'est enfin éclaircie le dimanche, laissant place aux différentes compétitions se déroulant à un rythme accéléré. Le sol ayant souffert de la pluie, cela demandait un supplément d'énergie pour envoyer de la ligne tout autour de l'aire de street. A ce petit jeu, nul n'a pu détrôner
Romain Godenaire
, qui s'est emparé de la 1ère place pour la deuxième année consécutive.
Thankfully, on Sunday the weather finally got back to normal, allowing the different comps to take place at a rushed pace. The floor having heavily suffered from the rain, the course required some serious skills and energy to keep the lines flowing all over the place. At this little game, it seems that none can beat
Romain Godenaire
, who placed 1st in the pro comp for the 2nd year in a row.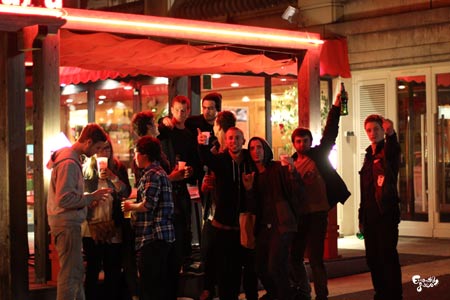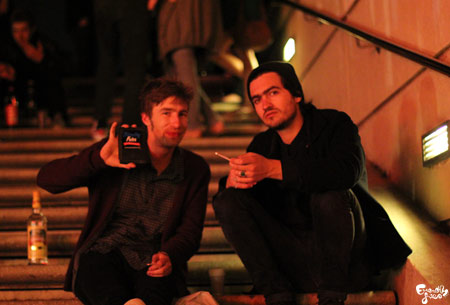 Puisque tout ce que nous avons à vous offrir pour l'instant sont quelques photos de soirée et images d'ambiance, nous vous suggérons de rester branchés puisque nous avons deux montages du street contest de l'ESA et de la session bowl du dimanche à Poussan prêts à débarquer. En ligne très bientôt, restez vigilants !
Since all we have to offer for now are some party pictures and atmosphere footage, we suggest you stay tuned as we have to edits of the ESA street contest and the Sunday bowl session in Poussan ready to drop. Online in the next couple of days, keep an eye open !
Credits : party pictures, write-up and footage by the Frenchy Fries team.