PHOTOS : FISE THROUGH A LENS
Par Frenchyfries, jeudi 11 juin 2009 à 21:09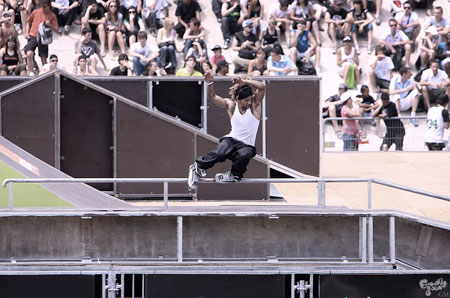 Franky Morales. Photo de Greg Mirzoyan. / Photo by Greg Mirzoyan.
Le FISE n'est pas seulement un gros show avec les meilleurs athlètes internationaux dans chaque discipline qui font le voyage pour l'argent et la gloire des compétitions pros, mais aussi un événement grassroots qui n'a jamais renié la scène et ses amateurs, en faisant un des rendez-vous phare du patin. Un rendez-vous d'une semaine, avec des patineurs venant de toute l'Europe, et parfois bien plus loin. L'occasion parfaite pour nous de réunir nos troupes en un seul endroit, et de partager nos visions ainsi que de très bons moments.
The FISE is not only a big show with top athletes from all over the world competing for the big bucks and glory in the pro comps, but also a grassroots event that has never turned its back on the scene and its amateurs, making it one of the coolest core event as well. A week long reunion with rollerbladers coming from all over Europe, and sometimes further. The perfect occasion for us to gather our troops in one place, and share our visions and some really good moments altogether.
Le photographe Greg Mirzoyan est descendu depuis Paris, au cours d'un road trip du
912 Crew
qui les a emmené à Strasbourg pour le NL, Lyon et Clermont Ferrand, tandis que Samsofy est venu directement de Lyon avec toute une troupe à l'alcoolisation joyeuse. Aurélien Laurent était en quelque sorte le local de l'étape, puisqu'il a emménagé à Montpellier depuis quelques temps déjà. Avec tous nos photographes ainsi regroupés en un seul lieu, nous n'avons pu résister à l'envie de vous concocter un photo report sur le FISE, et toutes les sessions, les personnages et les soirées qui l'entourent. Partager avec vous notre vision, en quelque sorte. Enjoy !
Photographer Greg Mirzoyan came all the way down from Paris, on a road trip with the
912 Crew
that took them to Strasbourg, Lyon and Clermont Ferrand, while Samsofy came directly from Lyon with some of the coolest people to get drunk with. Aurélien Laurent was kind of the "local guy" since he moved to Montpellier a while ago. With our photographers all in one place, we couldn't resist but make a photo report on the FISE, and all the sessions, characters and parties that surround it. Share our visions, in some way. Enjoy !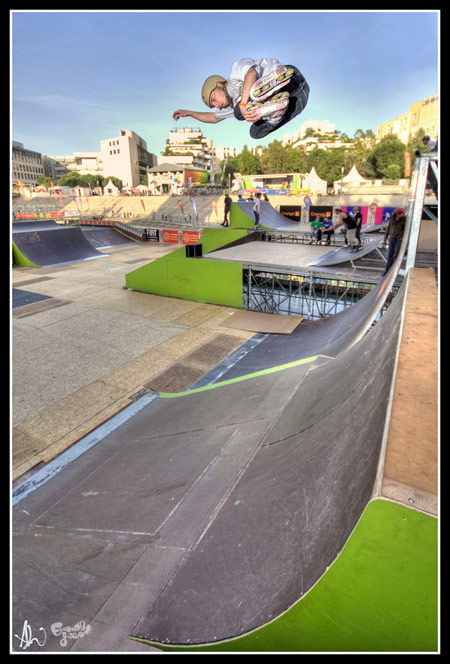 Clément Boucau s'envole du Jersey bank en 360 et fait une démo de style sur l'aire de street construite au dessus du Lez pour l'occasion. Photo : Aurélien Laurent. / Clément Boucau getting some air off the Jersey bank and styling out a 360 on the street course built above the water for the event. Photo : Aurélien Laurent.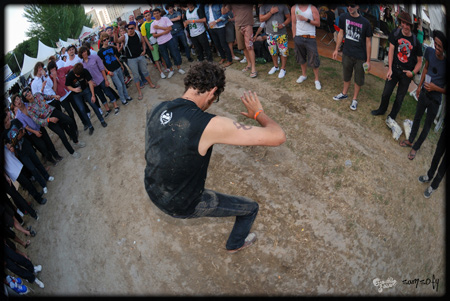 Toute la vie de Farside Crash, connu par toute la population de Montpellier sous le nom de "Crash", semble irrémédiablement liée au FISE. Au cours des ans, ce personnage a laissé sa marque sur l'événement, et son personnel de sécurité. Trop d'histoires pour les raconter toutes, vous n'aurez qu'à demander à la foule l'entourant dans la photo de Samsofy ci-dessus de vous narrer la Légende de Crash. Des photos de son run peuvent être trouvées sur Be-Mag, qui a couvert l'événement avec professionnalisme. / The entire life of Farside Crash, known by everyone in Montpellier as "Crash", revolves around the FISE. Throughout the years, this character has truly left his mark on the event, and its security guards. Too many stories to tell them all, you'll just have to ask the crowd surrounding him in the picture by Samsofy above for the legend of Crash to be told. Pictures of his run can be found on Be-Mag, who provided the world great coverage on the event.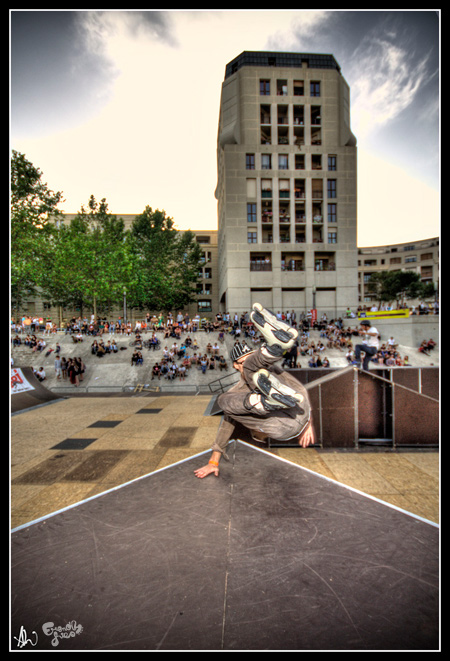 Notre staff cameraman et photographe Allan Beaulieu a non seulement skaté la compétition Amateur avec un run remarqué, mais il a aussi pris le temps de filmer des images qui seront montées et utilisées pour le video report sur le FISE, prochainement sur le site. Comme il était trop occupé pour prendre des photos, il n'est que justice de le retrouver lui-même capturé sur pellicule en handplant au dessus du hip. Photo : Aurélien Laurent. / Our staff cameraman and photographer Allan Beaulieu not only skated well in the Amateur comp in a remarkable run, but he also took the time to film some clips, which will be edited and featured in our upcoming video report on the FISE. Since he was too busy to take some pictures, it's only justice that we feature a picture of himself doing a parkour style handplant over the hip instead. Photo : Aurélien Laurent.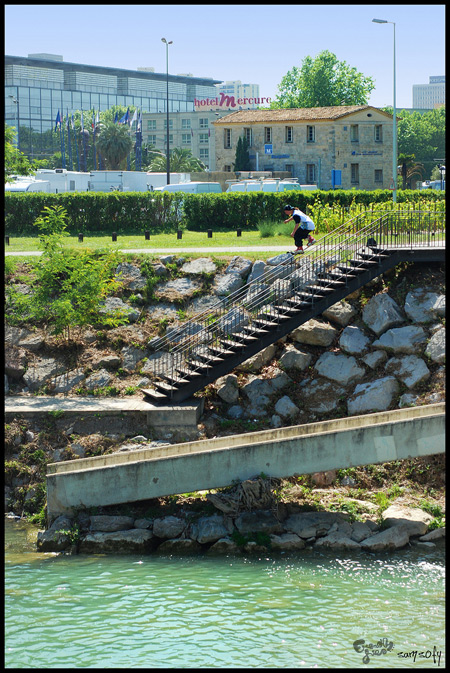 Nombreux sont ceux qui viennent à Montpellier, non seulement pour le contest en lui-même, mais aussi pour les spots dont la ville regorge. Certains sont restés fameux à travers les vidéos ou la presse, et certains restent à découvrir, et même skatés. Ce drop rail est situé juste au-dessus du parcours de wake board, mais il revenait curieusement à un patineur de s'occuper de son cas, avec ici Andy Horat en soul grind dangereux, immortalisé par Samsofy. / Many come to Montpellier, not only for the comp, but also for the great spots the city has to offer. Many of those have become famous, through videos or magazines, and some remain to be discovered, or skated yet. This drop rail is located right above the wake board course, but curiously it had to be a rollerblader to get shit done, thanks to Andy Horat and this dangerous soul grind, photographed by Samsofy.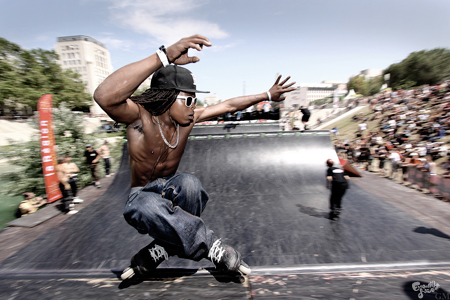 Montre est probablement le meilleur exemple de ce que c'est qu'être pro, non seulement véritablement doué, mais aussi accessible à tous et ouvert, toujours le sourire aux lèvres, et à en juger par les réactions de la foule nombreuse, le chouchou du public. Il a skaté le contest de mini rampe avec son habituelle bonne humeur, rentrant ce unity sur le coping pour le boîtier de notre photographe Greg Mirzoyan. / Montre is probably the best example of a pro nowadays, indeniably talented, but also very nice to everyone, always carrying a smile on his face, and judging by the reaction of the huge attendance, the ultimate crowd pleaser. He skated the mini ramp contest with his usual steeze and motivation, and lacing this perfect unity on the coping for our photographer Greg Mirzoyan.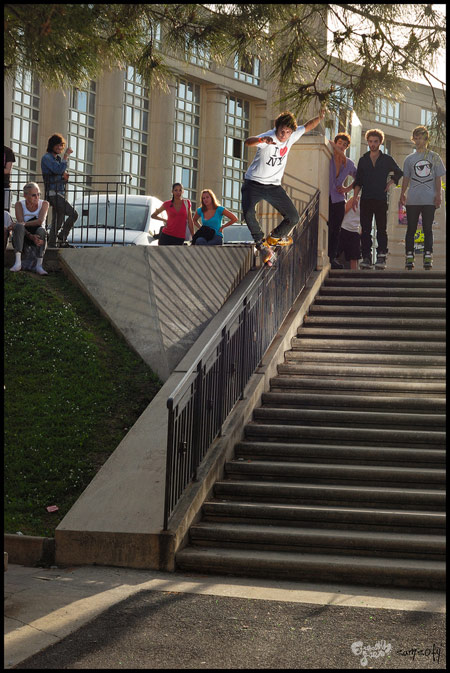 Certains aiment à surnommer Saleem Sikha le "crash test". Il roule gros, trouvant des transferts originaux tout comme des tricks créatifs sur les nombreux contests auquel il se rend, et toujours intéressant à regarder, car imprévisible. Ici il court au désastre, en disaster sweatstance sur l'un des nombreux spots qu'on peut trouver autour du site de plus d'un km de long de l'événement. Photo : Samsofy. / Some like to refer to Saleem Sikha as "the crash test". He'll always go big on the course, finding original transfers as well as creative tricks on the many contests he travels to, and he's always interesting to watch, thanks to his unpredictability. Here he goes for the disaster and sweatstances one of the many spots around the 1km long site of the event. Photo : Samsofy.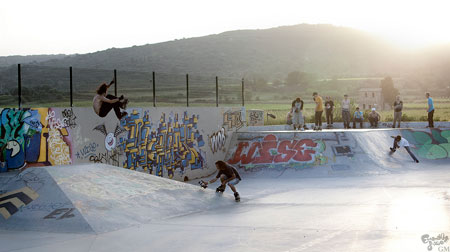 A part le contest de mini rampe, il n'y avait pas grand chose de prévu le samedi, un groupe de plus de 75 patineurs s'est donc spontanément formé dans le village de Poussan, à 30kms de Montpellier, et son bowl perdu au milieu des vignobles. Voici ce qui pourrait être une parfaite pub Rasca Prod, avec Martin Demay à la camera, Tino Areno à la photo, et Greg Mirzoyan pour capturer le tout, pour le plaisir de vos yeux. / Apart from the mini ramp contest, there's wasn't much going on on Saturday, so a group of 75+ skaters met up in the little village of Poussan, located 30kms from Montpellier, and its bowl lost in the middle of the vineyard. Here is Mathieu Heinemann shooting what could be a perfect Rasca Prod ad, with Martin Demay behind the video camera, Tino Areno shooting the picture, and Greg Mirzoyan capturing it all for us.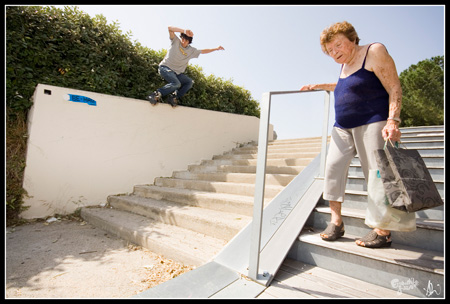 C'était une tradition que le lendemain de la clôture du FISE, les streeters se retrouvent dans la ville pour une battle sur les spots locaux, dans un contest nommé l'ESA. Cette année a vu un retour aux traditions, dans un contest remporté par Avichai Wechsler d'Israel, martyrisant tous les bons vieux spots. Sur la photo, notre ami Thomas Buggenhoudt de Belgique, en back royale sur la murette de Paquito, rendue légendaire par un autre belge, Paquito Bartiaux. Une preuve que l'ESA est aussi un contest international, grace au FISE. Photo : Aurélien Laurent. / It was a tradition that the day after the FISE, the core street skaters would come into the city to battle on the local spots in a contest named the ESA. Well, this year the tradition was brought back and Avichai Wechsler from Israel took the comp, killing it on all the good old spots. Here is our friend Thomas Buggenhoudt from Belgium back royaling the Paquito ledge, made legendary by another skater from Belgium, Paquito Bartiaux. Another proof that the ESA contest truly is an international event, thanks to the FISE. Photo : Aurélien Laurent.
Partager sur Facebook