Battle My Crew 2014 at St Etienne
Par Frenchyfries, dimanche 17 juillet 2016 à 20:37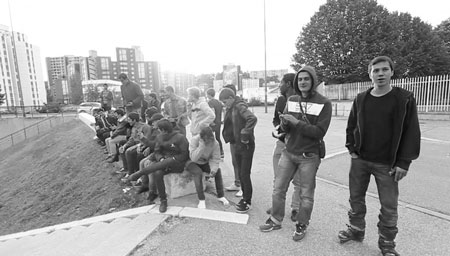 En Mai 2013, les fondateurs des Battles My Crew ont relancé le projet. L'objectif était de proposer une battle ouverte à tous et de choisir les 30 meilleurs édits pour la vidéo Battle My Crew 5 - Videogroove 24. En voyant cette publication sur le net, nous nous sommes motivés pour organiser une session à Saint Etienne.
In May 2013, the founders of My Crew Battles relaunched the project. The aim was to propose an open battle to all and choose the best 30 edits for video Battle My Crew 5 - Videogroove 24. When we have seen this announcement, we decided to organize a session.
La session avait bien commencé. Victor Legrand avait prévu une liste de spots avec de nombreux rails. De nombreux riders avaient fait la déplacement. C'est une bien belle équipe qui s'est présentée à St Etienne : des nordistes, des strasbourgeois, des lyonnais, des clermontois et le beau temps. Malgré cette belle motivation, nous n'avons pas réussi à capter assez d'images pour faire un edit pour Battle My Crew nous et n'avons pas organisé d'autres sessions pour filmer. Dommage. Finalement la Battle my Crew a été annulée par manque d'edits. La prochaine fois nous serons au rendez-vous. Voici un aperçu tardif de la session.
The session started well. Victor Legrand have listed spots with many rails. Many riders had made the trip. There was a great team: people from north, Strasbourg, Lyon, and Clermont-Ferrand. And the sun was there as a cherry on a cake. Despite this good motivation, we did not have enough pictures to make an edit for Battle My Crew and we did not organized an other session for filming. Pity. Finally the Battle my Crew was canceled because of a lack of edits. Next time we will be at there. Here is a late overview of the session.
Saint Etienne MBC 2014 from Frenchyfries. on Vimeo.