MONTAGE : GUILLAUME DEBUF - CHAMPION DE L'AN 2000
Par Frenchyfries, samedi 18 août 2012 à 21:15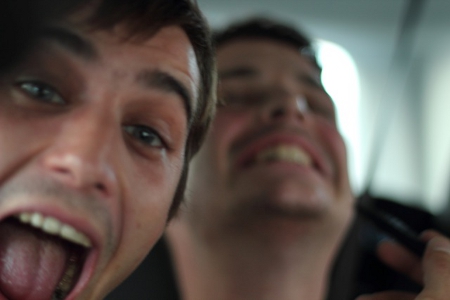 Peu de gens ont ce qu'il faut pour être un champion. Cela nécessite non seulement beaucoup de temps, d'efforts et d'entrainement pour atteindre le sommet, mais aussi une capacité de concentration constante et une grande force d'esprit pour y garder sa place. Bien sur, le talent inné peut également être utile. Ceci étant dit, un nom vient immédiatement à l'esprit : bien plus haut encore que Chris Haffey, laissez-nous vous présenter Guillaume Debuf.
Few people have what it takes to be a champion. Not only does it take a lot of time, effort and practice to make your way to the top, it also requires the ability to stay focused at all times, and great mental strength in order to keep your spot up there. Of course, natural talent can be useful too. That being said, one name immediately comes to mind : floating high above Chris Haffey, let us introduce you to Guillaume Debuf.
Guillaume est notre champion. Il l'est depuis près de douze ans maintenant, depuis qu'il a remporté le championnat de France 2000. Ce titre est le sien, et le sera toute sa vie. Il y a quelques semaines, il a remporté le contest annuel qui se tient à Annecy, et certains n'ont pas hésité à appeler ça un comeback. C'est du flan : les champions ne reviennent pas, puisqu'ils ont toujours été là. Parfois, ils tiennent simplement à nous rappeler leur divine compétence.
Guillaume is our champion. It's been that way for almost twelve years now, ever since he won the French Skating Championship back in 2000. That crown is his, and always will be. A few weeks back, Guillaume won the annual contest held in Annecy, and some were quick to call it a comeback. Fuck that noise : champions don't come back, as they were always there in the first place. Sometimes, they just like to remind us mortals of their godlike skills.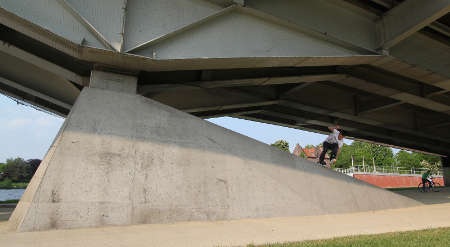 Cependant, les compétences ne font pas tout, et quand il s'agit de Guillaume, le style et l'attitude jouent tous deux un rôle important. Il replaque ses tricks comme s'il s'en foutait (et c'est parce qu'il s'en fout), et son effronterie pourrait rappeler
Aaron Feinberg
jeune. En y réfléchissant, la similitude est parfois frappante, qu'il s'agisse de sa grande gueule, des quantités d'herbe consumées ou bien de la façon dont il tourne ses 630° au dessus d'un hip.
However, skills aren't everything, and when it comes to Guillaume, style and attitude both play a very important part. He laces tricks like he doesn't even care (and that's because he doesn't), and his cockiness might remind you of a young
Aaron Feinberg
. As a matter of fact, the similarity is quite striking sometimes, be it the way he runs his mouth, the amount of weed he smokes, or how he spins 630° hip transfers.
Ces deux montages se sont fait attendre, ayant accumulé la poussière comme une pile de vieilles cassettes mini DV. Filmés aux heures de gloire de la Canon XL2, on y voit P'tit Gui cartonner la rue tout comme les courbes de différents skateparks, perpétuant ainsi la légende d'un champion qui défendra à vie son titre, la couronne bien vissée sur le crâne !
These two edits were long overdue, as they've been collecting dust just like a pile of old DV tapes. Filmed in the glory Canon GL2 days, Lil' Gui can be seen shredding the streets just as various skateparks around the country, thus perpetuating the legend of a champion who will be defending his title his whole life, the crown bolted tightly to his head !
Skating by Guillaume Debuf. Filming, editing, writing & photography by Frenchy Fries.