MONTAGE : BLING BLING CONTEST PRE-SESSION
Par Frenchyfries, mercredi 9 juin 2010 à 08:26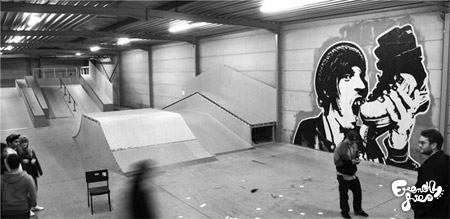 Contrairement à bon nombre de compétitions, le Bling Bling street contest se déroule réellement sur 3 jours, enchainant action et soirées. Conséquence directe, cette année les choses ont débuté dès le vendredi soir, au fameux
skatepark Foward Freestyle
, situé à Roselaere, en Belgique, pour une pre-session qui a duré une bonne partie de la nuit.
Unlike most comps, the Bling Bling street contest is truly meant to be a 3 days event, packed with action and parties. As a matter of fact, this year it all started on Friday night, at the infamous
Foward Freestyle skatepark
in Roselaere, Belgium, for a tremendous pre-session that lasted all night.
Entre un best trick contest, des DJ's jouant en live, des distributions de lots et une performance de
l'artiste de rue AL
, il y aussi eu beaucoup de patin à roulettes, et notre reporter Samuel « Bodchoy » Courdent était la pour capturer tout ça sur pellicule. Les jeunes ont motivés les skaters plus âgés, et nous espérons que le montage suivant témoignera de la bonne ambiance qui régnait !
In between a best trick comp, live musicians & DJ's, prizes givaway and a performance by
street artist AL
, some serious skating went down, and our reporter Samuel « Bodchoy » Courdent was there to get it all on film. The youngins pushed the elder skaters to shred harder for sure, and we hope the following edit will show how much fun we had !
BLING BLING REPORT - FORWARD FREESTYLE PRE-SESSION from Frenchy Fries on Vimeo.
Je ne suis pas certain qu'il soit réellement judicieux de commencer le week-end avec une aussi bonne session, parce que la plupart des gens en repartent avec un sacré mal de crâne et le corps bien fatigué ! Il n'y a pas de risque à regarder ce montage en revanche, et nous vous encourageons à en commencer le visionnage dès maintenant !
Now, I'm not sure if it is too smart to start the week-end off with such a great session, because it will leave most people in attendance with a serious headache and an exhausted body ! There's no risk in watching this edit though, so I suggest you click the « play » button already !
Credits : photo and sticker by AL. Filming & editing by Samuel "Bodchoy" Courdent.