Par Frenchyfries, vendredi 18 juin 2010 à 16:56 ::: 10234 fois lus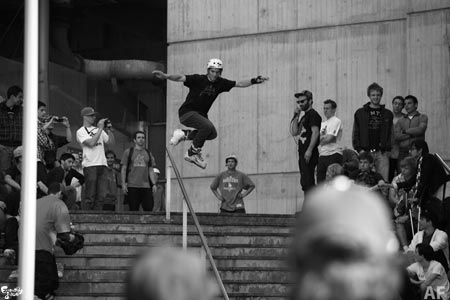 Alors que je suis assis à mon bureau, travaillant sur cet article du Bling Bling, je me souviens de ce week-end et je réalise que je n'ai pas porté beaucoup d'attention à la compétition en elle-même. Cependant, ils étaient nombreux sur place à prendre les choses bien plus au sérieux, et à qui ces photos devraient rendre justice !
As I sit here trying to get that Bling Bling article done, I reminisce the whole week-end and I realize I didn't pay that much attention to the competition in itself. However, a lot of people were there too, and seemed to take things very seriously, which should show in these very pictures !
En savoir plus
434 commentaires
Tags: AL , Anthony Finocchiaro , Antony Pottier , Aurélien Laurent , Bling Bling , Clément Boucau , Matthieu Dosso , street , Thibault Barbaza