Par Frenchyfries, vendredi 22 avril 2011 à 17:01 ::: 14695 fois lus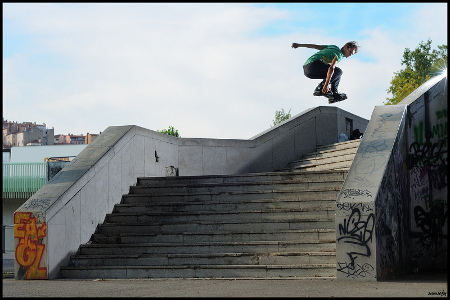 Déjà, je ne sais pas pourquoi ce putain de spot de mort s'appelle Foch. Ma chère grand-mère, elle, m'a toujours dit que j'allais faire du roller au Pont Morand. Et son saucisson en brioche me fait plus croire en sa lyonnitude que le matos de Dubost. Faut croire que le métro a trop d'influence sur la jeune génération.
I personally have no idea why they call this fucking spot "Foch". My dear grandmother always told me I was going to skate at the Morand bridge. And when it comes to knowing Lyon, I trust her cooking way more than Dubost's hasch. I guess the metro has too much influence on the younger generation nowadays.
En savoir plus
aucun commentaire
Tags: Foch , Invitational , Lyon , Mathias Silhan , Nicolas Auroux , Quentin Mandron , Samsofy , Sylvain Rigaud