Par Frenchyfries, dimanche 31 janvier 2010 à 14:40 ::: 25863 fois lus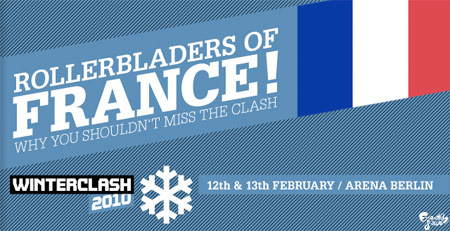 L'échéance se rapproche, et alors que chacun commence à préparer son paquetage pour le
Winterclash 2010
(12 et 13 Février – Arena Berlin), nous avons laissé quelques uns des meilleurs patineurs Frenchy vous expliquer pourquoi il n'est pas question de rater cet événement. On se voit à Berlin !
We are getting close, and as everybody is starting to pack up their bags for the
Winterclash 2010
(12-13th February – Arena Berlin), we had some of France's best skaters explain why missing this event isn't even an option. See you in Berlin !
En savoir plus
596 commentaires
Tags: Clément Boucau , Fabrice Guyont , France , Julien Cudot , Mathias Silhan , Roman Abrate , support , Sylvain Rigaud , Winterclash