Par Frenchyfries, mercredi 12 mai 2010 à 00:24 ::: 7568 fois lus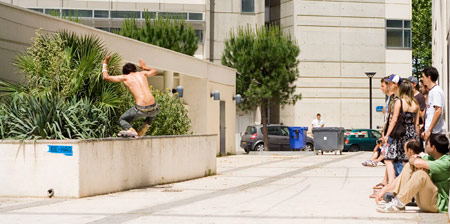 Dans quelques heures à peine, ce sera officiellement le début du 14ème FISE à Montpellier, alors que de nombreux amateurs et professionnels envahiront l'aire de street construite pour l'occasion. En plein centre-ville, la compétition de patin est exposée à une large audience. Cependant, dans le caniveau et les ruelles sombres, la rue appartient tout autant aux patineurs, qui auront l'occasion de le prouver Samedi au cours de la 6ème édition du ESA street contest.
In about a few hours, it will be the official start of the 14th edition of the FISE in Montpellier, as many amateurs and pro rollerbladers will invade the street course built for the event. Right in the Center of the city, the blading comp is widely exposed to a mainstream audience. Gathering in the gutter and back alleys though, bladers still hold the streets and will get a chance to prove it during the 6th ESA street contest this next Saturday.
En savoir plus
318 commentaires
Tags: Aurélien Laurent , design , ESA , FISE , photos , street contest