Par Jey, jeudi 19 février 2009 à 13:54 ::: 11718 fois lus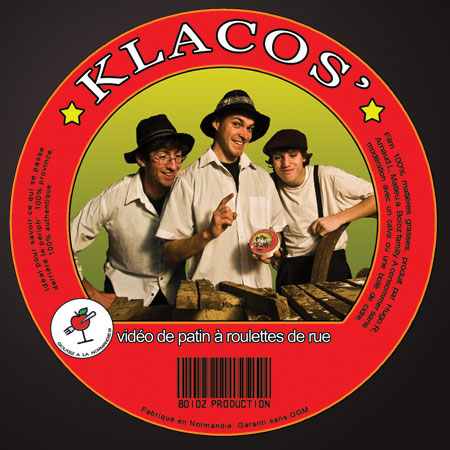 Klacos', la vidéo normande débarque pour le plus grand bonheur de vos mirettes! Klacos' se veut dans la lignée des vidéos normandes passées, la série "Motivation", réalisée à l'époque par O2, puis "Brut de pomme" du même auteur. Mais beaucoup de choses ont changé depuis cette période. O2 est désormais actif sur d'autres plans, et ce sont trois Normands de la BOïOZ family qui reprennent le flambeau. Hugo (aka HRprod), Arnaud (aka Sallgoss'), et Mathieu (aka le coach boïoz) nous servent le couvert, et au menu c'est un bon camembert des familles, coulant à souhait et qui fleure bon le terroir.
Klacos', a video straight out of Normandy (FR) to enhance your viewing pleasure! Klacos' is the proud successor of many previous productions from Normandy, like the "Motivation" series produced by O2, and "Brut de pomme" from the same author. A lot of things have now changed, though. O2 is now active on many different projects, in consequence 3 other members of the BOïOZ family stood up to carry on the torch. Hugo (aka HRprod), Arnaud (aka Sallgoss'), and Mathieu (aka the boïoz coach) cooked up something special, and the meal is like good ol' camembert, tasty, rotten and perfectly stinky !
En savoir plus
93 commentaires
Tags: Boïoz familly , Dosso , HR PROD , Hugo , Klacos , Matthieu Dosso