Par Frenchyfries, lundi 28 mars 2011 à 11:37 ::: 5206 fois lus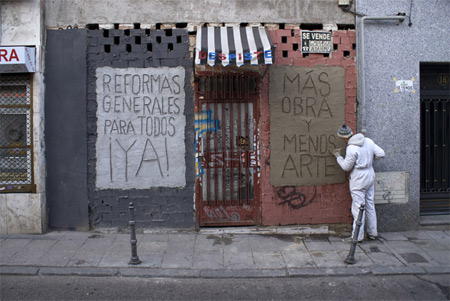 De nos jours, le béton est un médium puissant pour une jeunesse énervée. La wax sur les murets, le sang sur l'asphalte... Les patineurs ont créé leur propre moyen d'expression, et laissé leur marque sur le béton. Explorant les rues de Madrid, l'artiste français 3TTman en a fait de même, et inventé lui aussi une nouvelle façon de communiquer.
Concrete is a powerful media for an angry youth nowadays. Wax on a ledge, blood on the asphalt... Bladers have created their own form of expression, and left their mark on the concrete. Raiding the streets of Madrid, French artist 3TTman has done just the same, and created a new way to express himself.
En savoir plus
5 commentaires
Tags: 3TTman , béton , ciment , concrete , graffiti , Madrid , street art