Par Frenchyfries, lundi 19 février 2018 à 19:11 ::: 6722 fois lus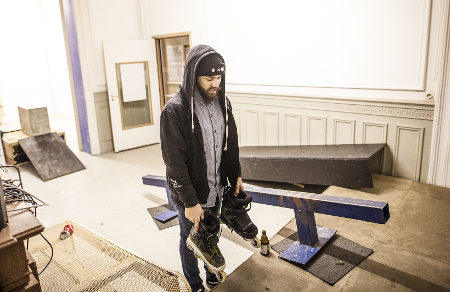 En improvisant un événement de ce genre à Bruxelles, on sait d'office que toute l'équipe va débarquer pour se la coller mais que peu feront l'effort de chausser les patins. En fait, c'est le cas même si on s'organise correctement, et un certain
Mallory-Weiss
peut témoigner de notre aptitude à nous retrouver plus facilement pour la boisson que pour la session. Pour ceux qui l'auraient oublié, ou qui en douteraient, le 7ème épisode du
Home Contest
en fût une véritable démonstration.
When trying to improvise an event in Brussels, one thing you can be sure of is that although 20 people will show up for the afterparty, no more than a couple of them will be on time for the actual session. While not inherently bad in itself, this well documented fact tends to inflict more damage on our livers than the wheeled boots that brought us all together in the first place. And in case some had forgotten about it, the
Home Contest
7th edition was simply a perfect reminder of it all.
En savoir plus
aucun commentaire
Tags: 2018 , Brussels , Bruxelles , BX'Hell , Home Contest , Invitational , James Convent , Jeremy Suarez , LaMAB , Rémy Meister , Victor Brevière