PHOTOS : HOME CONTEST 7 – JEREMY SUAREZ INVITATIONAL
Par Frenchyfries, lundi 19 février 2018 à 19:11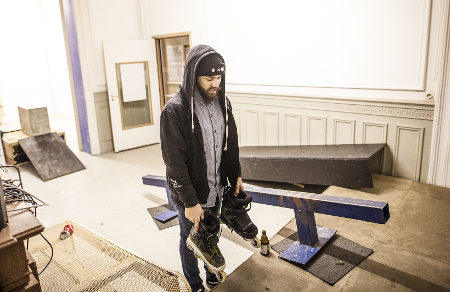 En improvisant un événement de ce genre à Bruxelles, on sait d'office que toute l'équipe va débarquer pour se la coller mais que peu feront l'effort de chausser les patins. En fait, c'est le cas même si on s'organise correctement, et un certain
Mallory-Weiss
peut témoigner de notre aptitude à nous retrouver plus facilement pour la boisson que pour la session. Pour ceux qui l'auraient oublié, ou qui en douteraient, le 7ème épisode du
Home Contest
en fût une véritable démonstration.
When trying to improvise an event in Brussels, one thing you can be sure of is that although 20 people will show up for the afterparty, no more than a couple of them will be on time for the actual session. While not inherently bad in itself, this well documented fact tends to inflict more damage on our livers than the wheeled boots that brought us all together in the first place. And in case some had forgotten about it, the
Home Contest
7th edition was simply a perfect reminder of it all.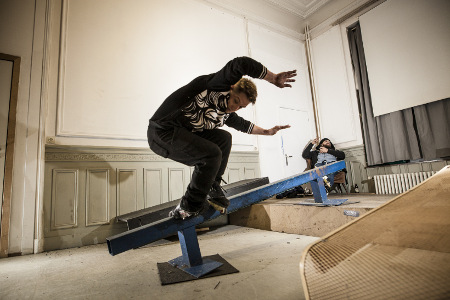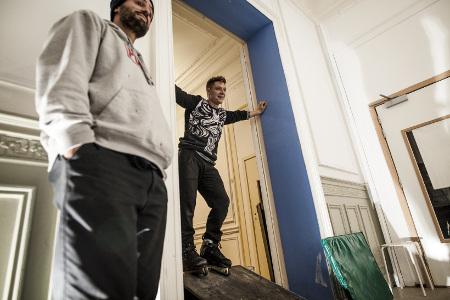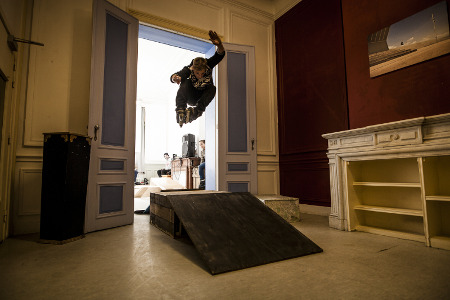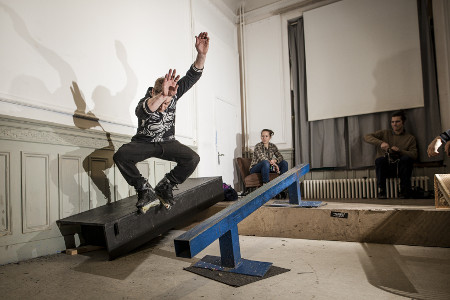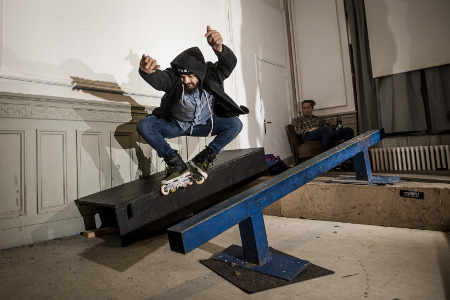 Pilier de la scène roller belge autant que de comptoir, le pro RB
Jeremy Suarez
est une référence en la matière. Avec son goût prononcé pour les gros transferts et les Triple Hop locales, le "Colonel" quitte sa Belgique natale pour rejoindre son pote
Joey Egan
et performer des cascades en Allemagne et en legging. Ceux qui voudront boire un canon avec eux prochainement n'ont plus qu'à prendre un ticket pour le
Starlight Express
à Bochum, plus ancien pestacle sur roulettes en Europe!
A staple in the Belgium scene since forever, Rollerblade pro rider
Jeremy Suarez
himself has shown great skills on both sides of the bottle. Always hungry for big tricks and thirsty for some locally brewed Triple Hop, Jeremy's next career move is taking him away from us and closer to longtime friend
Joey Egan
: The pair will soon be performing together in the celebrated
Starlight Express
show! Great news then, but not so conveniently located in Bochum, Germany...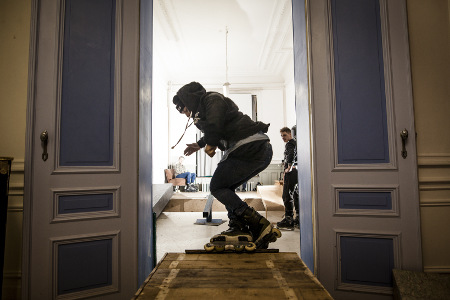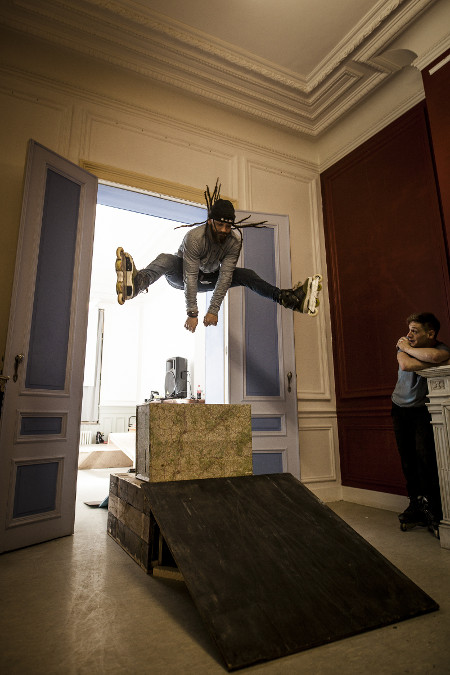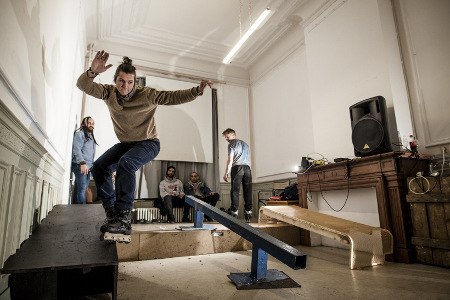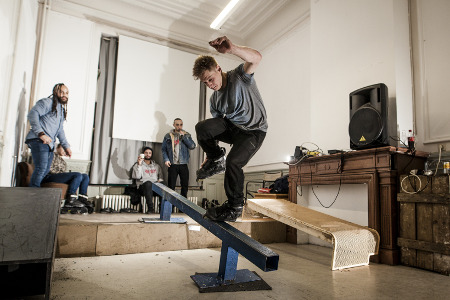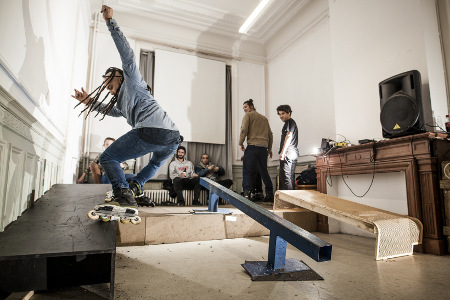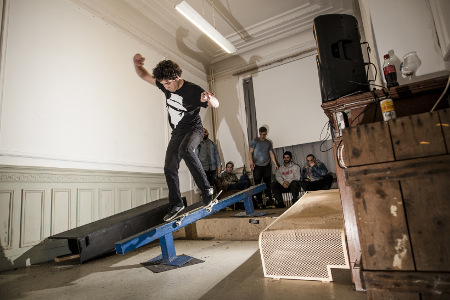 Enfin bref, habitant une case qui possède son propre bar associatif et assez d'espace pour y construire des spots plus ou moins roulables, à
LaMAB
on s'est dit que pour la dernière nuit de Susu à BXL on allait se refaire une bonne petite session d'intérieur à l'ancienne. Comme ces photos en témoignent, c'était à peu près aussi jobard que les autres fois, mais le temps passant et n'épargnant rien, on a surtout tombé quelques litres de plus et plaqué quelques tricks de moins !
Nevertheless, squatting a house that not only hosts its own, collectively run bar, but also offers enough space to set up a few (kinda) skateable obstacles, some of us decided Jeremy's last night in town was the perfect occasion to revive the old Home Contest tradition! As you can see here, it went just as crazy as the previous ones... Only with more people on the other side of the bar, and less of them with blades on their feet this time!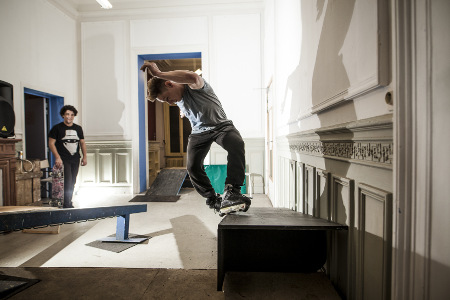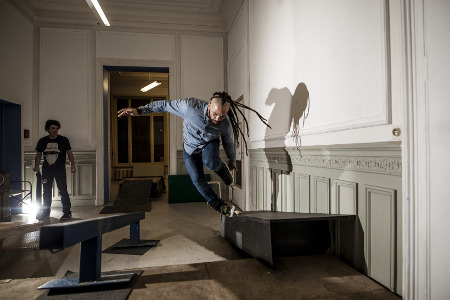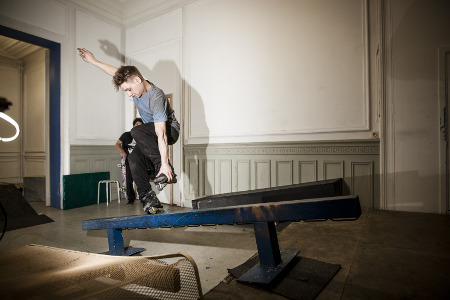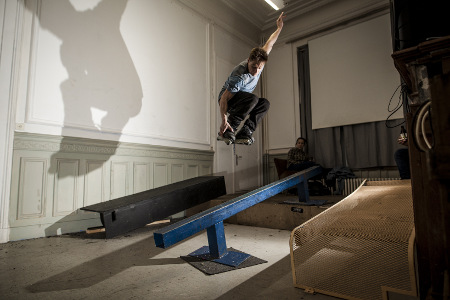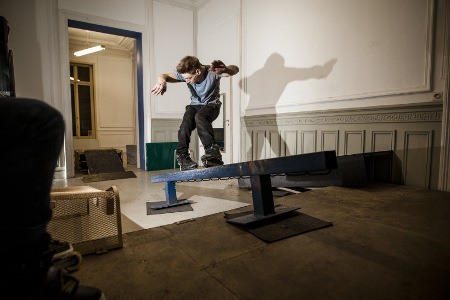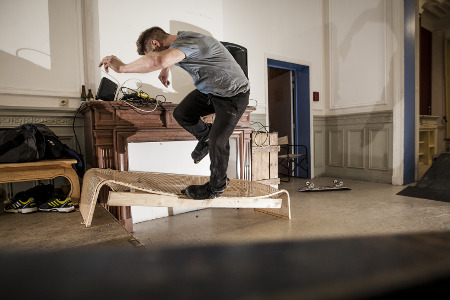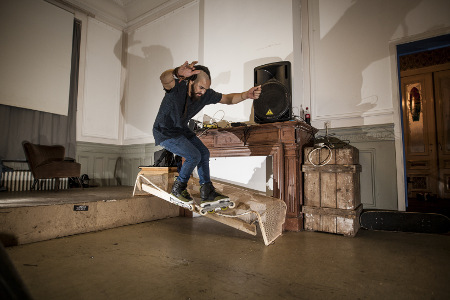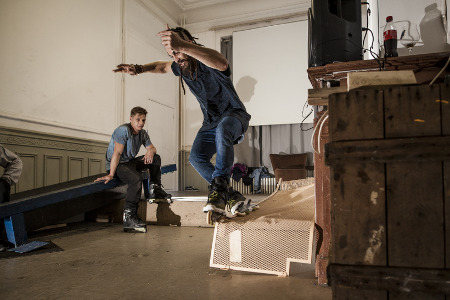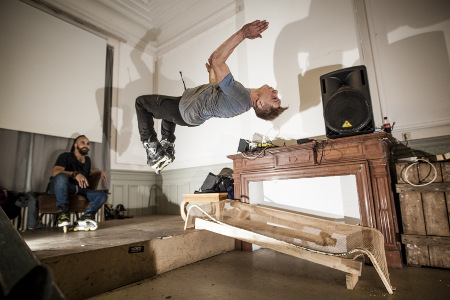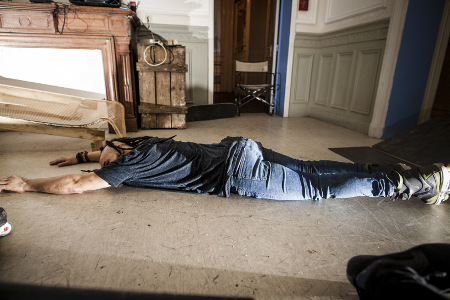 Results:
Best trick:
Victor – flip frontside boardslide
Best slam:
Jeremy – for all his hard work
Overall winner:
Rémy "last minute" Meister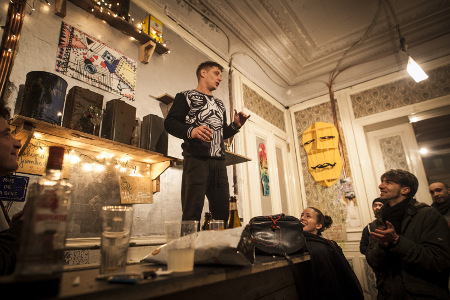 Photography by Mathieu Hennebert, words by Freddy White, translation by Rémy Meister, teamwork by Frenchy Fries.