HAPPY NEW YEAR 2010 !!!
Par Frenchyfries, vendredi 15 janvier 2010 à 23:45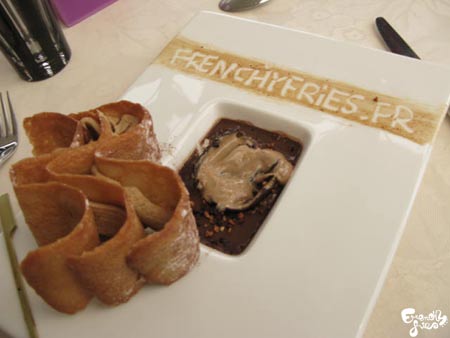 Qu'importe à quel point on peut être heureux de fêter la fin de l'année avec ceux que l'on aime, qu'importe l'importance que l'on attache indéniablement à ces moments importants, parfois l'on ne peut s'empêcher d'entendre raisonner la mélancolie dans les tréfonds de notre âme. Les docteurs appelleront aussi cet état du corps et de l'esprit: « dépression ». Et bien, en tant qu'individu c'est ainsi que je me sens chaque année.
No matter how great it is to celebrate the end of the year with the ones you love, and no matter how much you actually cherish those moments, sometimes you can't help but feel the melancholia echoing deep inside your soul. Doctors may also call this state of the mind and of the body « depression ». Well, as a person, that's exactly how I feel every year.
« Que m'importe à moi? », pourriez-vous me demander. Et bien, peut-être que c'est important parce qu'il faut des gens, bien réels, pour cultiver ce site. Et peut-être parce que cela nécessite beaucoup de temps et d'efforts pour vous fournir votre dose de contenu, frais et exclusif. Ainsi, notre vécu et notre ressenti ont un impact sur Frenchy Fries, bien entendu. Et comme les temps parfois se font durs, il n'est pas toujours aisé de concentrer toute notre attention sur le site.
« Why should I care? », you may ask. Well, maybe you should care because it takes actual people to run this very website. And because it requires some real time and effort to provide you with some fresh and exclusive content. So, of course our personal lives have an impact on the website, and as times sometimes get rougher, it isn't always easy to focus all our attention on it.
Cependant, nous venons d'attaquer 2010, et alors que les cieux s'éclaircissent, le crew Frenchy Fries et moi-même vous souhaitons le meilleur de ce que peut vous offrir cette vie, avec une énergie et une motivation renouvelées. On espère continuer à vous proposer un paquet de jolies photos, de montages vidéos et de critiques gastronomiques cette année encore. On fait ça depuis maintenant 2 ans, et on ne prévoit pas de s'arrêter de sitôt. Ce qui nous attend promet d'être excitant,
très bonne année à tous !
However, we have just reached 2010 and as skies get brighter, the whole Frenchy Fries crew and myself wish you the best of what this life as to offer with a renewed energy and motivation. Hopefully we'll keep on providing you with a lot of exciting pictures, video edits and food reviews this year again. We've been doing this for the past 2 years now, and don't plan on giving up anytime soon. Things ahead sould be quite exciting,
happy new year everyone !
Photo : il y a un temps pour la junk food, et puis il y a un temps pour savourer la gaufrette géante fourrée au praliné à l'ancienne, esquimau glacé, dégustation de chocolat 1er cru Vila Gracinda de chez Michel Cluizel./Photo: there's a time for junk food, and there's a time for the giant waffle stuffed with classic style praliné, ice cream, and first class chocolate Vila Gracinda from Michel Cluizel.
Partager sur Facebook