MONTAGES : COEUR DE VERRE
Par Ben, mardi 19 février 2008 à 20:36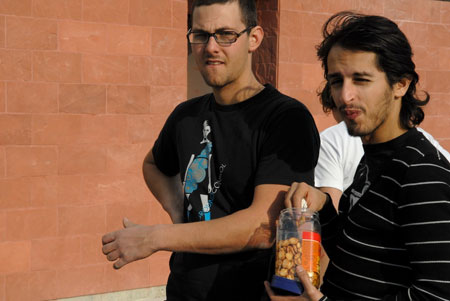 L'ostracisme est un sentiment douloureux. Se sentir exclu d'une société ébranle les repères sociaux qui nous faisaient advenir en tant qu'être à part entière. Mais parfois c'est l'occasion de rompre avec cette première appartenance pour succomber à une autre.
Ostracism is a painful feeling. To be exluded from a society weakens our social framework that we have as full fledged souls. But sometimes it also offers the opportunity to break with our old patterns and experience new.
Le roller est ses pairs ; des gens d'ici et d'ailleurs animés par une même passion. Des amitiés qui divergent, mais qui le plus souvent convergent pour laisser repartir nos esprits en paix dans ce monde de la quotidienneté. Le montage qui suit illustre bien ces propos, certes hasardeux, que le patin à roulettes est avant tout une histoire de potes permettant à chacun d'y trouver ses petits moments de bonheur et d'oublier, le temps d'une session, son boulet social...
Coeur de verre
from
Frenchy Fries
on
Vimeo
.
Rollers and their peer; people here and elsewhere are driven by the same passion. Friendships may diverge, but more often converge and gives our souls a rest from everyday routine. The montage that follows illustrates this slanderous, certainly risky sport. As roller skating is primarily a activity of buddies allowing everyone to find his little moments of happiness and forget over the duration of a session all of his social problems...