Par Frenchyfries, dimanche 27 juin 2010 à 12:42 ::: 7629 fois lus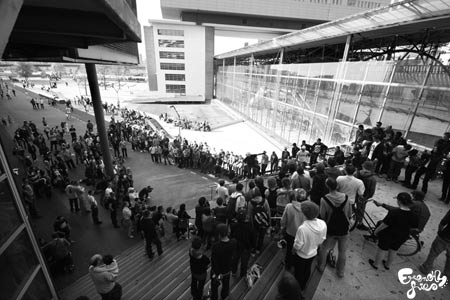 Au fil des ans, de nombreux tricks ont été replaqués sur le célèbre rail d'Euralille. La raideur de marches, et les pavés à l'élan comme à la réception en ont fait un endroit connu, reconnu, et le temps l'a consacré comme un spot de légendes et d'histoires. Ainsi, ce rail paraissait un choix évident en tant qu'obstacle final du Bling Bling contest.
Throughout the years, many tricks have been landed on the infamous Euralille down rail. The steep stairset, and cobblestone run-up and landing have made it quite famous, and with time it has become a place of legends and history. Therefore, it seemed like an obvious choice as a final spot for the Bling Bling contest.
En savoir plus
68 commentaires
Tags: AL , Anthony Pottier , Bling Bling , Bukette , contest , Euralille , video