MONTAGE : FISE 2009 VIDEO EDIT IN 2010
Par Frenchyfries, vendredi 30 avril 2010 à 00:21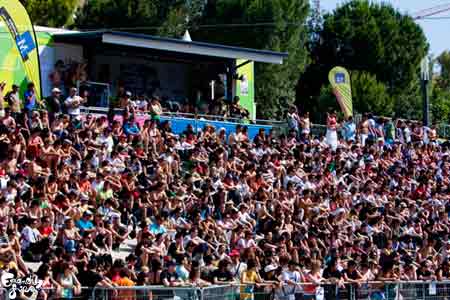 On attend toujours ce moment avec impatience, et nous voici de nouveau à Montpellier pour assister au plus grand festival de sports de glisse en Europe, et le contest du
FISE
qui est vite devenu une étape phare du circuit WRS. Pour célébrer l'événement et rattraper le temps perdu, voici l'edit Frenchy Fries du contest de l'année dernière.
It's been a long time coming, but here we are in Montpellier again, in order to attend the largest extreme sports event in Europe, and the 14th edition of the
FISE
which has quickly become one of the main 5 stars contest of the WRS series. In order to celebrate and catch up with 2010, here is Frenchy Fries' video edit of last year's event.
Nous avons en effet accumulé pas mal de retard, puisque nous avions d'autres projets en tête pour cet edit, mais alors que nos plans sont tombés à l'eau, le temps a passé et une année s'était écoulée avant que nous l'ayons réalisé. C'est donc aujourd'hui l'occasion rêvée de partager avec vous ce montage de la compétition, rendu possible par Samuel « Bodchoy » Courdent !
We've been quite late on this indeed, as we had previously planned otherwise for this release, but as our plans failed through, time went on and almost another year had gone by before we even noticed it. So now's the perfect occasion to share this great edit of the comp, made possible by Samuel « Bodchoy » Courdent, with all of you folks !
FISE 2009 - BODCHOY EDIT from Frenchy Fries on Vimeo.
Filmé et monté par notre reporter spécial sur l'aire de street, ce montage ne propose rien de moins que le meilleur de ce que le patin a à offrir à une large audience. Avec des personnages comme Montre pour provoquer les hurlements de la foule, il n'est nul doute du brillant avenir de notre pratique. Restez branchés pour plus d'infos et de media autour du FISE très bientôt, et devenez témoin de l'histoire sur
Frenchy Fries
!
Filmed and edited by our special reporter on the course, this edit features nothing but the best skating has to offer to a mainstream audience. With people like Montre to hype things up and make the whole crowd in attendance scream, I have no doubt rollerblading still has a bright feature ahead. Keep an eye opened for more FISE media and info soon, and witness history being made on
this very website
!
Partager sur Facebook