KULTURE : BREAKBOT MIXTAPE, THE LAZY SUNDAY SELECTA
Par Frenchyfries, lundi 12 septembre 2011 à 12:47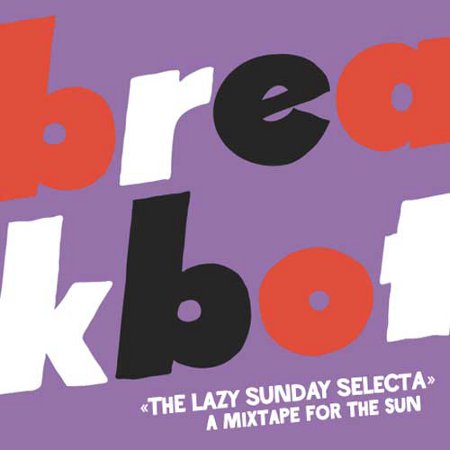 C'est plutôt ironique qu'au moment de publier cet article, la pluie tombe à verse au dehors. Cependant, il n'y a pas d'heure pour la bonne musique, et le mix estival que Breakbot a produit il y a quelques semaines reste bien d'actualité. « A Mixtape For The Sun » séduira vos oreilles, même sous ce ciel pluvieux!
It's quite ironic we finally get to post this article when it's pouring rain outside. However, there's no time for good music, and the summer mix Breakbot released a couple weeks ago falls right into that category. « A Mixtape For The Sun » will please your ears, under the rainy skies even!
Une sélection d'excellents morceaux, vraiment bien ficelée, ce mix funky vous fera danser, tout comme il nous a accompagné sur les routes de l'été, nous invitant dans les fêtes et les mariages, ainsi que sur des spots inhabituels. Alors assurez vous d'afficher un grand sourire, pour accompagner le son de vos écouteurs.
A selection of great tunes, extremely well put together, this funky mix will keep you dancing, just as it kept us fools traveling down the coast this past summer, crashing parties, weddings, and skating some unusual spots as well. So make sure to put a smile on your face and some good music on your headphones!
Breakbot x Revolver by Hypetrak
Vous pouvez utiliser le lecteur de musique ci-dessus et laisser la magie opérer dès maintenant, ou bien
télécharger le fichier directement sur votre ordinateur grâce à l'option gratuite que propose Soundclound
. Quelque soit votre choix, ne perdez plus de temps et procurez vous votre petit morceau d'été!
You can either use the player above and let the music play right away, or use the
free download button on the Soundcloud website and get the whole file straight to your computer
. No matter what option you choose though, don't waste any more time and get your own little piece of summer too!
Credits : thanks to my personal selecta and ambianceur extraordinaire Vincent Voisin!