PHOTOS : BATTLE FOR FUN REPORT IN NAMUR
Par Frenchyfries, dimanche 1 août 2010 à 17:54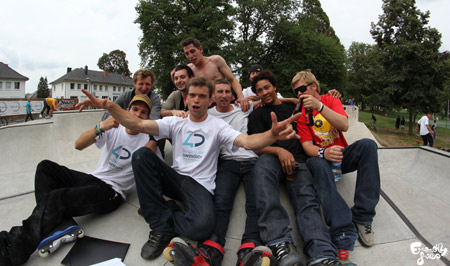 Namur, capitale de la Wallonie. Ville dans laquelle se dressent d'irréductibles skaters prêt à tout pour échapper à la morosité globale de notre sport. Parmi eux, l'association Rollmops a pris l'initiative d'instaurer un contest prenant place au skate park d'Amée et répondant au doux nom de « Battle for fun ». Pour sa deuxième édition, elle est aussi une étape comptant pour le classement mondial. Il ne nous en faut pas plus pour nous motiver à monter une expédition et partir au pays de la Jupiler !
The place : Namur, capital of the Walloon Region in Belgium. There, local skaters are fighting against the overall gloom in our sport. Among them, the Rollmops association put together a contest entitled « Battle for Fun », taking place at the Amée skatepark. Its second edition is now part of the world circuit, and it was more than enough to get us to travel all the way to the country of Jupiler beer !
Stéphane Mosselmans with a dangerous soul grind on the corner.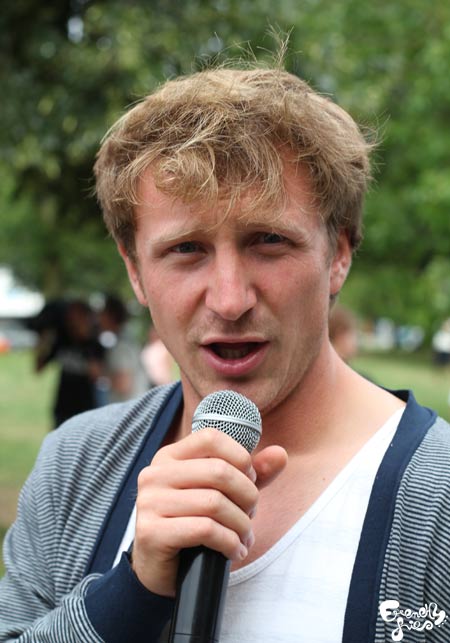 MC Superstar, Thomas "Bukette" Buchet on the mic.
Ainsi, notre petite équipe de français débarque dans ce cadre bucolique avec le retard syndical. A notre arrivée, on se rend compte que peu de skater ont fait le déplacement. Mais parmi les présents, on retrouve des têtes connues que l'on est toujours heureux de croiser. Les échauffements continuent jusqu'à ce que Maxime Berg, l'un des organisateurs, réunisse suffisamment de personnes pour assurer le spectacle allant même jusqu'à s'inscrire malgré le coccyx en carton qu'il venait de s'offrir un ¼ d'heure avant.
Thus, our little French team arrived on the spot with a legitimate delay. Once we were there, we noticed that not too many skaters actually made the trip. But among the people we saw, were all the usual suspects that we're always happy to hang out with. The trainings took place until Maxime Berg, one of the organizers, gathered enough people for the show, even registering himself despite his tailbone he had hurt not more than 15 minutes prior.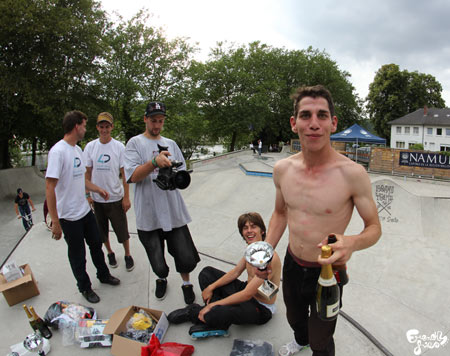 One happy Greg Defreyne takes the cup... And the bottles too !
La compétition a alors pu commencer! Thomas Buchet au micro, le fantaisiste a une fois de plus su créer un univers onirique digne des meilleurs Walt Disney pour le plaisir des spectateurs pour peu qu'ils ne soient pas trop prudes... Ainsi l'homme au sexe de fer (Paquito Batiaux) et Josh Hamilton, exilé américain champion du monde de trottinette (Josh Decuyper), sont de la partie pour juger des skaters tel que le guépard maltais (Stéphane Mosselmans), le barbare de Roumanie (Greg Defreyne) le tout sous le regard du dauphin blanc (Bodchoy)...
The competition then began. Once again the master of the microphone, Thomas Buchet, successfully managed to create a wonderful world, worthy of the best Walt Disney movies, for a delighted attendance. Thus the Iron Sex man (Paquito Bartiaux) & Josh Hamilton, an exiled American scooter champion (Josh Decuyper) were judging skaters like the Maltese Panther (Stéphane Mosselmans), the Romanian Barbarian (Greg Defreyne), while the White Dolphin (Bodchoy) was capturing the hotness.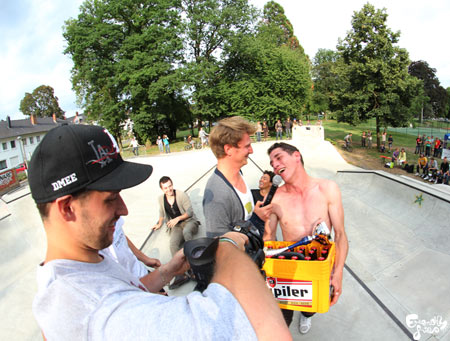 And more beer bottles for the best trick winner, Greg Defreyne.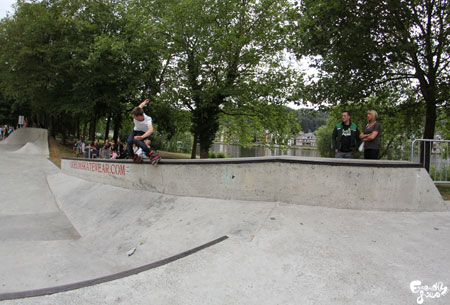 Stéphane Mosselmans with yet another incredible true top soul.
Le titre de la compétition, « Battle for Fun » prend tout son sens. Ici, tout le monde est venu pour s'amuser et skater dans une ambiance conviviale. Les qualifs se font par pool de deux, les demi final par quatre. On assiste vraiment à de belles choses... Le style de Mosselmans, la propreté chirurgicale de Kevin Franck et la fureur de Greg Defreyne font que nous les retrouvons tous les trois en finale. Les juges ne savent plus où regarder, tellement nos amis belges impressionnent. Après cinq minutes de régal pour les yeux, Kevin Franck est désigné vainqueur pour son style donnant aux tricks les plus techniques une aisance immorale, alors que Greg remporte le best trick avec un transfert 720° gargantuesque dont il a le secret.
The name of the comp, « Battle for Fun », has some truth behind it. Everyone had come to skate and chill in a friendly atmosphere. The qualifiers were a two skaters heat, the Semis gathered four people. There was some great stuff going on : Mosselmans' great style, Kevin Franck's clean skating and the fury of Greg Defreyne put them all up in the Finals. The judges didn't really know where to look anymore, as all of them were skating their best. After a 5 minutes show for the eyes, Kevin Franck was declared the Champion, with a clean style that made most technical tricks look way too easy. Greg took the best trick with a gigantic 720° transfer only him can do.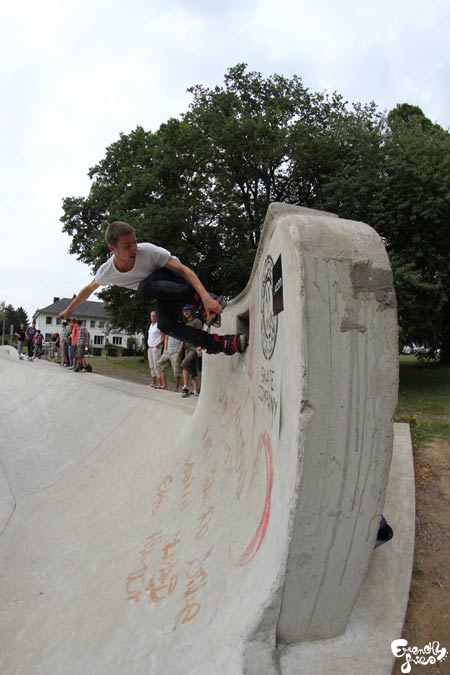 Stéphane goes up with a quick fishbrain stall.
Remise des prix fournis par le shop Forward Freestyle à nos vainqueurs, liquidation de bières à 1euro l'unité, cérémonie de clôture avec une petite fille de 8 ans volant le micro au speaker pour un medley des meilleurs tubes du moment, conversations entre vieux de la veille, 40ème Jupiler pour Fritz... Et une journée d'été parfaite !
The prize giving was made possible by Forward Freestyle skateshop, beers were sold for one €uro each, an eight years old girl stole the mic during the closing ceremony to sing a medley of the best summer hits, the old cats got a chance to chat together also, the 40th Jupiler for Fritz... And what seemed to be a perfect summer day !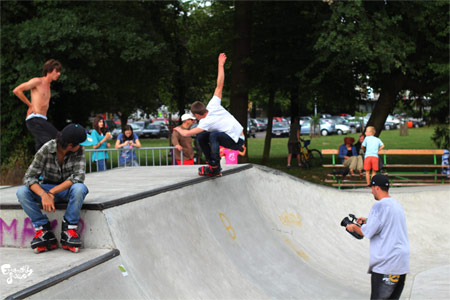 Mosselmans again, with another impeccable soyale.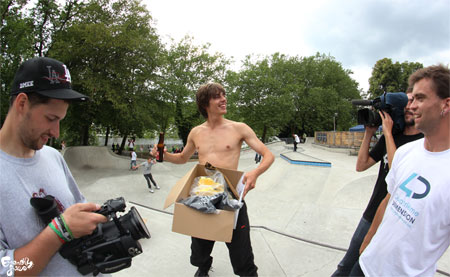 Our friend Bruno Willemarck facing the media.
Credits : text by Josh "Hamilton" Decuyper, and pictures by Samuel "Bodchoy" Courdent (!).