LA BONNE BOUFFE : KENTUCKY FRIED CHICKEN
Par Frenchyfries, mercredi 14 janvier 2009 à 20:15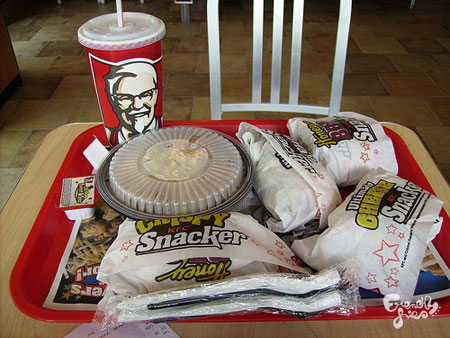 Fondé par le Colonel Harland Sanders en 1952, et basé à Louisville dans le Kentucky, il y a peu de chances que vous n'ayez jamais entendu le nom de KFC (Kentucky Fried Chicken). On trouve leurs restaurants à travers le monde, spécialisés dans le poulet frit ou rôti, bien qu'on puisse également y trouver des produits à base de boeuf ou de porc en dehors du continent Nord Américain. Alors, la seule question qui se pose encore, c'est de savoir si ça a le même goût à l'autre bout du monde...
Founded by Colonel Harland Sanders in 1952, and based in Louisville, Kentucky, there is little chance you've never heard of KFC, standing for Kentucky Fried Chicken. They have restaurants worldwide, focusing mainly on fried and roasted chicken, even though they may serve beef based products and ribs outside North America. The only question remaining is, does it taste the same on the other side of the planet ?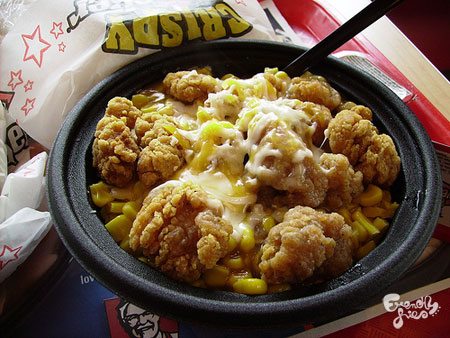 Une purée de pommes de terre, du maïs doux, des bouchées de poulet frit, un peu de fromage et ce que la maison appelle "homestyle gravy" en guise de sauce, c'est que vous trouverez dans ces "bols fameux" de chez KFC. C'est un bien étrange mélange, mais rien qui puisse m'effrayer à première vue. Rien de bien "fameux" dans ces bols, pourtant, patates et maïs surgelés de seconde zone, des zestes de fromage inutiles, et au final, bien que j'ai fait de mon mieux pour savoir ce que cachaient les mots "homestyle gravy", j'aurais bien du mal à dire quel goût ça a. Les morceaux de poulet sont corrects, mais autant économiser un peu et les commander à part à l'avenir.
Mashed potatoes, sweet kernel corn, bites of crispy chicken, some cheese and what they call "homestyle gravy", that's what you'll get in KFC's Famous bowls. That's quite a strange mix if you ask me, but that's usually not the type of thing that would scare me off. Except for the chicken, though, there's nothing really interesting in there, the potatoes or the corn are just second zone, frozen food, the cheese is kind of useless in there, and in the end, even though I tried really hard to figure it out, I have no idea what the "homestyle gravy" actually tastes like. The chicken bites are okay, but I guess I could just save some money and order these alone next time.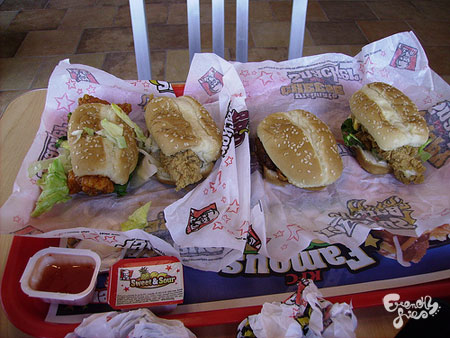 Ensuite, les "snackers" ("wrap", en bon français). Plutôt appétissants sur le menu, et peu chers, je me suis senti l'âme d'un vrai professionnel et ai essayé les quatres saveurs différentes d'un coup. Mais il s'agit en fait strictement de la même chose, une pièce de poulet frit entre deux tranches de pain version réduite, avec des sauces différentes pour "varier les plaisirs", et je ne peux pas dire que ce soit très réussi en définitive. Certaines saveurs sont mieux réussies que d'autres, mais c'est peu dire que c'est finalement assez décevant. La saveur barbecue est sans doute la plus adaptée, poulet et sauce s'accordant assez bien, les crispy et buffalo snackers sont tout juste moyens, et le "fromage ultime" est simplement mauvais. Je vous laisse juger d'après les photos...
Then, the snackers... Well, they seem quite exciting on the menu, and they're also really cheap, so I felt like I should act as a true professional and try the 4 different flavors all at once. But they're basically all the same, a piece of fried chicken in a small wrap, with different sauces to pretend it's actually another flavor, so I can't say the result is too exciting in the end. Some flavors are just a little better than the others, but that's not saying much, and in conclusion, they're all a little disappointing. The BBQ is probably the best, as the chicken and sauce go along well, crispy one and buffalo are average, but the ultimate cheese one is just plain disgusting, I'll let you judge by the pictures...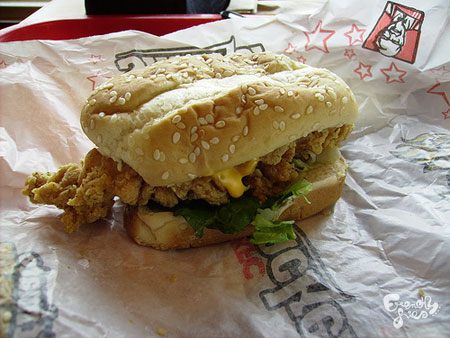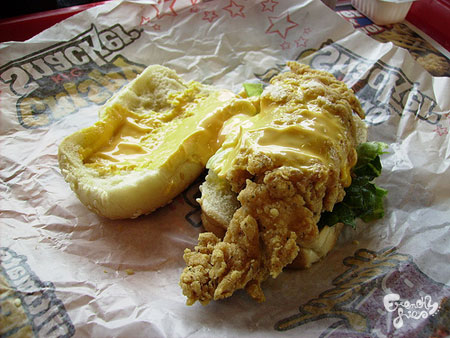 En conclusion, pas grand chose de très excitant à se mettre sous la dent ce jour là chez KFC, un peu comme de ce côté-ci de l'Océan. Du fast food multinational, qui ne fait clairement pas le poids en terme de qualité face a des chaines plus confidentielles comme
Zaxby's
, ou autre restaurants que l'on peut trouver un peu partout au USA, en particulier dans les Etats de l'ancien Sud. Il n'y pas que du bon à la mondialisation, je suppose...
In conclusion, there wasn't anything too exciting to be found at KFC, just like on this side of the Ocean. Some international type of fast food, which in matter of taste can't compete with smaller chains like
Zaxby's
that can be found all around the US, and more particularly in the South. Globalization can't always taste good, I guess...
Bowl combo w/ Medium Pepsi drink = $5,29
Crispy snacker = $0.99
BBQ snacker = $0.99
Buffalo snacker = $0.99
Ultimate cheese snacker = $0,99

Total with taxes = $9,97