MONTAGE : WINTER IS COMING EDIT
Par Jey, mardi 16 septembre 2008 à 22:03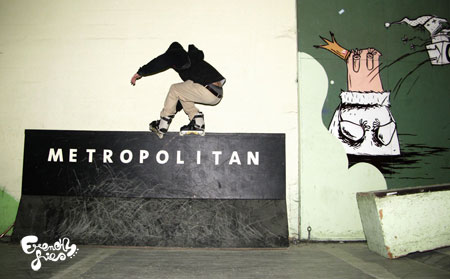 À moins que vous ne viviez sous le soleil éternel de la Californie, vous avez sans doute remarqué les signes… Les cieux se sont obscurcis, les nuages lourds de pluie sont venus, et le soleil lui-même disparait peu à peu. Nul besoin d'être un Nostradamus pour prédire ceci : l'été s'en est allé, et l'hiver arrive.
Unless you are living in the everlasting sun of Southern California, you may have noticed the signs… The skies have darkened, clouds heavy with rain have come, and the sun itself is slowly disappearing. There's no need to be a Nostradamus to predict this: summer is gone now, and winter is coming.
Rouler dans la rue va être bien plus difficile dans les mois qui viennent, et cela va se transformer en un jeu avec la météo, un jeu de chat et souris. Une dure pluie drue va tomber. Ce montage porte pourtant ce message: il y a encore de l'espoir ! Les sessions ensoleillées dans la rue sont peut-être terminées pour cette année, mais rouler en park apporte aussi son lot de satisfaction. Cela pourrait même vous sauver la vie. Dans ces périodes hivernales et troublées… Je vous laisse apprécier ce montage que "Bodchoy" a été assez gentil pour réaliser pour nous, et gardez la foi mes amis !
Street skating is going to be a lot harder in the months to come, for it's going to be like a game we play with the weather, just like cat and mouse. A hard rain is sure going to fall. This edit comes as a reminder, though: there is still hope! The sunny days of street skating may be gone for this year, but park skating can be a lot of fun as well. It may even save your life in the tremendous winter time… So enjoy this park edit "Bodchoy" was kind enough to chop for us, and keep the faith my friends!
WINTER IS COMING
from
Frenchy Fries
on
Vimeo
.
L'hiver ne vous semble peut-être pas la période la plus excitante de l'année, mais elle va vraiment l'être pour le staff et tous les Frenchy Fries addicts. Nous devrions recevoir notre seconde ligne de tee-shirt en fin de semaine, et soyez prêts pour le lancement du mini-site présentant les différentes lignes textiles également. Plusieurs edits bien frais sont en route, ainsi que différents articles photo qui seront en ligne très bientôt. Quelques légendes à roulettes devraient également contribuer au site, ah ! Comme toujours, un peu de junk food bien énervée pour continuer à jouer avec vos estomacs. Et notre 1er anniversaire approchant, on vous tiendra bien évidemment au courant des avancées du tournage de la première vidéo Frenchy Fries ! Restez branchés, parce que l'hiver va être aussi chaud qu'un été californien sur Frenchy Fries !!!
Winter may not seem to be the most exciting period of the year, but it sure is going to be exciting for all the staff and Frenchy Fries addicts. We should be receiving our second tee-shirt series by the end of the week, and be prepared for the launch of the mini-website that will feature our different clothing lines as well. We got a bunch of sick edits under way, many picture posts that will be online pretty soon, and a few rolling legends that will contribute too. As always, some crazy junk food to keep your stomach entertained. And as our 1st year anniversary gets closer, we'll keep you updated as the filming of the first Frenchy Fries video gets under way! Stay tuned, because winter is going to be as hot as California's sun on Frenchy Fries!!!
Montage : Samuel "Bodchoy" Courdent
Music : Billy Idol - White Wedding