Par Frenchyfries, lundi 15 avril 2013 à 21:16 ::: 12574 fois lus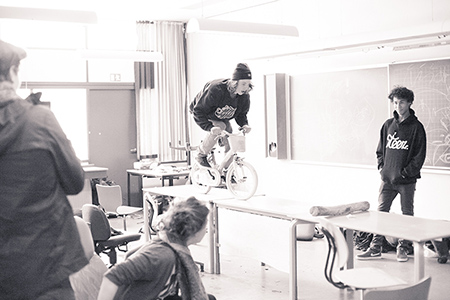 Dimanche matin à Nykøbing. Burston hurle, le Wu-Tang dynamite la stéréo, une tempête de neige fait rage dehors. Il y une trentaine de cadavres dans ce qu'on pourrait seulement décrire comme un camp de réfugiés. Je suis l'un d'entre eux. Dormi quelques heures à peine, une sévère gueule de bois, ma mâchoire me fait mal et j'ai une moustache collée sur le front. Pony Cup 2013, une sacrément bonne soirée.
Sunday morning in Nykøbing. Burston's screaming, Wu-Tang's blasting on the stereo, there's a snowstorm outside. There are about 30 dead bodies in what could only be described as a refugee camp. I am one of them. Slept only a couple hours, hungover as fuck, my mouth hurts and there's a mustache stuck on my forehead. Pony Cup 2013 was one hell of a party.
En savoir plus
19 commentaires
Tags: 2013 , Alex Burston , Denmark , Dominik Wagner , Nils Jansons , Pony Cup , RAD