Par Frenchyfries, mercredi 1 septembre 2010 à 07:46 ::: 21782 fois lus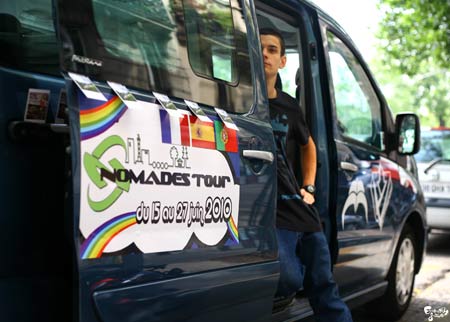 Puisqu'il existe relativement peu de marques de patin installées en France, peu d'initiatives de tours naissent ici sur le territoire. En conséquence,
Nomades roller shop
, installé à Paris, a décidé de réunir son team et de voyager vers le Sud, en quête de soleil et d'aventure. Et vers le Sud ils voguèrent, jusqu'au Portugal et l'Espagne !
With little to no real company or brand being established here in France, there aren't that many tours taking place anymore.
Nomades roller shop
, located in Paris, decided to bring their team together and travel down South, in search for the sun and some great touring adventures. And South they went, all the way to Portugal and Spain !
En savoir plus
aucun commentaire
Tags: 2010 , Aktarus , Auroux , Clairaz , JCB , Nomades , Rimbault , Silhan , tour