Par Frenchyfries, mardi 6 juillet 2010 à 00:37 ::: 9704 fois lus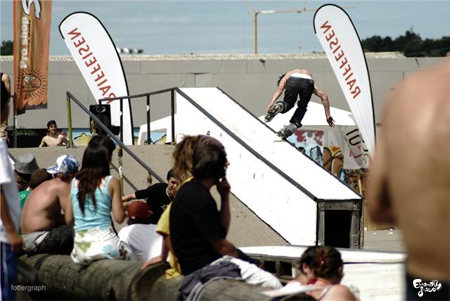 Si vous êtes déjà allé à Bulle, alors pas besoin de vous présenter l'endroit. Si ce n'est pas le cas, de toute façon vos amis vous ont sans doute tout raconté. C'est une expérience qui demande a être partagée, l'un des événements les plus détendus au sein de notre communauté, où l'idéal d'antan perdure, et où le skating se fait plus innovant et créatif qu'ailleurs.
If you have been to Bulle, then the place needs no further introduction. If you haven't, well, chances are your friends told you everything about it already. It's an experience one just has to share, one of the most laid back events in our community, where the festival ideal remains, and the contest is graced with some of the most progressive skating to date.
En savoir plus
9 commentaires
Tags: 2010 , Boule , Bulle , Claudio Antonelli , Contest , High in the Park , Jack Neveu