Par Frenchyfries, mercredi 7 juillet 2010 à 16:24 ::: 3535 fois lus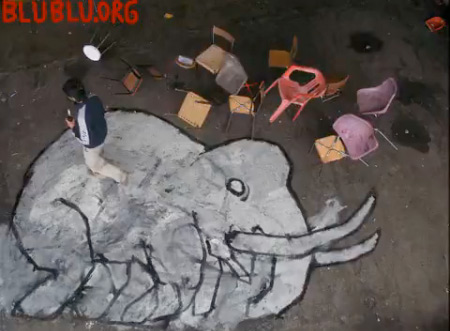 Cela fait un moment que nous voulions consacrer un article au
street artist Blu
, mais pour une raison ou une autre ce n'était jamais le bon moment. Avec la découverte de ses derniers travaux en revanche, il nous a semblait évident qu'il n'y avait pas de meilleure occasion, car Blu a sans nulle doute produit un véritable chef d'œuvre.
We've been wanting to run an article on
street artist Blu
for quite some time now, but for some reason it never seemed to be the right moment. With the release of his latest piece of work though, it seems like there couldn't be a more appropriate occasion, as he's truly produced a masterpiece.
En savoir plus
9 commentaires
Tags: Big Bang Big Boom , Blu , stop motion , street art