Par Frenchyfries, dimanche 29 novembre 2009 à 18:31 ::: 21320 fois lus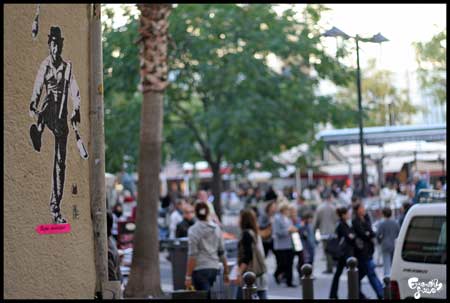 Ceux qui ont eu la chance de voir son travail, au cours d'événements comme le
Winterclash
ou le FISE, ou encore tout au long de l'été avec le
Pool & Pull tour
, ceux-la le savent déjà: notre collaborateur "AL" n'exprime pas seulement son art à travers l'objectif de son appareil photo. Cela bouleverse sa vie quotidienne, et envahit les murs de la cité.
Those who have been lucky enough to see his work during events such as the
Winterclash
or the FISE, or this past summer during the
Pool & Pull tour
know it already: our collaborator "AL" doesn't only express his art through his photo camera. It also invades his every day life and the streets of his city.
En savoir plus
71 commentaires
Tags: AL , Anthony Finocchiaro , artworks , Aurélien Laurent , collage , stickers , street art