Par Jey, vendredi 10 avril 2009 à 17:26 ::: 4772 fois lus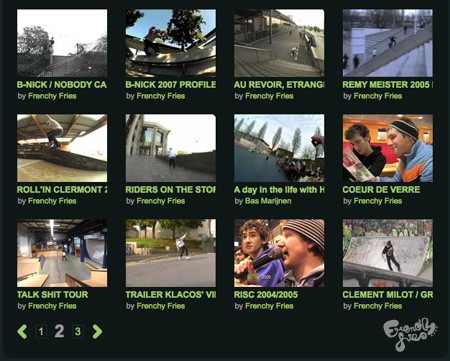 Frenchy Fries s'est toujours appliqué à produire un travail de qualité, et tout particulièrement en ce qui concerne les vidéos. Par conséquent, nous avons toujours fait attention aux moyens de diffusion de nos edits, pour que vous puissiez profiter du roulage, du filmage & du montage, et de l'effort global qui y était apporté, de la meilleure façon qui soit.
Frenchy Fries has always been willing to produce some quality content, especially when it comes to video edits. In consequence, we have also been concerned about the way we showcase said edits, so you can enjoy the skating, the filming & the editing, and the overall effort that is put into it, in the best possible way.
En savoir plus
600 commentaires
Tags: AllanB , frenchyfries , montage , Online , Sushi20 , video