Par Jey, lundi 22 juin 2009 à 21:20 ::: 36193 fois lus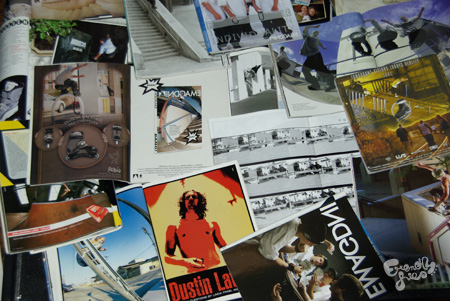 L'année 2008 a vu de nombreuses productions vidéos arriver dans les rayons de votre magasin favori, présentant les amateurs qui percent, des cascades à s'en décrocher la mâchoire, et les pros au sommet de leur art. Au milieu de tout cela, cependant, une icône désormais à la retraite a sorti un remarquable double DVD, sur sa vie à roulettes, et retraçant certaines des plus inoubliables figures et révolutions de l'histoire du patin. S'agissant de l'objet le plus intéressant que j'ai acquis l'année dernière, je n'ai pu résister et ai posé quelques questions à Dustin Latimer sur sa vie avec et sans roulettes, ainsi que sur le passé et le présent du patin : bonne lecture !
2008 has seen numerous video productions hit the shelves of your favorite skate shop, all featuring up and coming amateurs, jaw dropping hammers, and seasonned pros. In the middle of all that though, a now retired icon has put out a remarkable double DVD set, going through his life on rollerblades, and retracing some of the most epic tricks and revolutions in rolling history. Being the most interesting skate item I bought last year, I couldn't resist asking Dustin Latimer a few questions about his life on and off the wheels, and the past and present of rolling : enjoy !
En savoir plus
77 commentaires
Tags: Aaron Wallace , Dustin Latimer , Interview , Life , rolling