PHOTOS : THE DOs AND DON'Ts OF WINTERCLASH 2013
Par Frenchyfries, mardi 12 mars 2013 à 20:37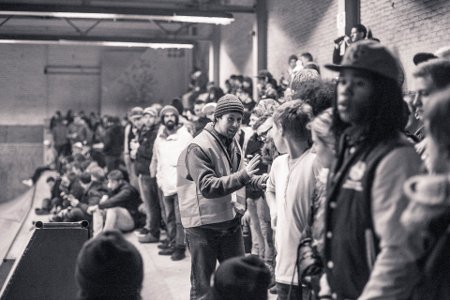 Ça fait tout juste un mois que le Winterclash a une nouvelle fois dévasté la ville d'Eindhoven, rappelant avec force le souvenir des grandes années à Muelhausen. Mais aussi sauvages soient les choses au Clash, il subsiste tout de même quelques règles pour vivre au mieux l'événement, dont Frenchy Fries vous propose ici la liste. En bref, faites ce que bon vous semble, tant que vous suivez celles-ci, vous devriez assurément vivre l'un des meilleurs moments de l'année!
It's been just a month since yet another incredible Winterclash took the city of Eindhoven by storm, and it's been said it was the best to date since the good old Muelhausen days. But no matter how wild things can get at the Clash, in order to live the event to the fullest there are a few rules one has to follow, which Frenchy Fries listed below. Do whatever you want, as long as you stick to those, you should be in for one of the greatest moment of the year!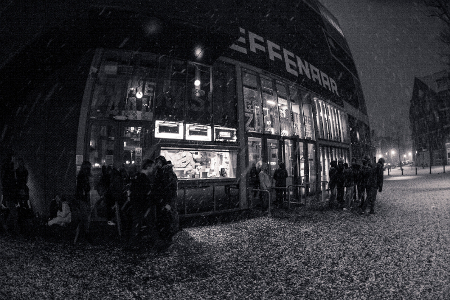 ONE - DON'T FORGET YOUR COAT
C'est la règle numéro 1. Ça devrait paraître évident, parce qu'à moins d'avoir la capacité de passer la soirée dehors vêtu d'un simple tee-shirt comme les locaux, il vaut mieux ne pas oublier de se couvrir. Les hivers sont rudes à Eindhoven, et il y a des chances pour que le premier signe de bienvenue soit pour vous le vent glacé de la Mer du Nord. Si vous êtes trop pauvres pour vous payer une chambre d'hôtel, et que vous pensez passer la nuit à la rue ou en camping dans un parking a proximité, soyez malins et prévoyez quelques couches de vêtements supplémentaires. Et profitez-en pour choper le
bonnet Hedonskate
réglementaire.
This is rule Number 1. It should be obvious enough, but unless you have the ability to party outside wearing only a tee-shirt in the middle of the night like the locals do, you better not forget about this one. Winters are cold in Eindhoven, and the first thing that will welcome you upon entering the city will most likely be the freezing winds of the North Sea. If you are too poor to afford booking a hotel room, and plan on camping in the streets or set up a tent in a parking lot nearby, you better act smart and bring a couple extra layers of clothing. And get yourself a
Hedonskate beanie
, while you're at it.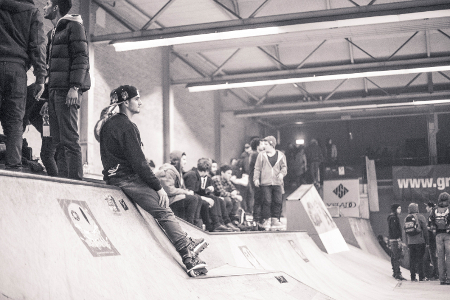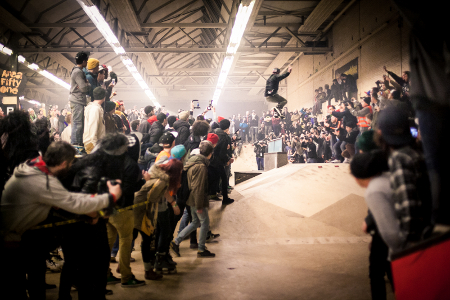 TWO - DON'T WEAR A LARGE
Avec la présentation de produits très attendus comme les
platines Bake
, le premier
pro skate de CJ
pour Seba, la collaboration
Adapt X Be-Mag
, ou bien la toute nouvelle collection Hedonskate, le trade show était bondé tout le long du weekend. Le seul inconvénient: peu de chance de trouver quelque chose à votre taille sur le toujours très populaire stand
Ucon
si vous portez autre chose qu'une taille enfant. Petite note: mieux vaut ne pas être trop pauvre, ou bien cette période de soldes risque très vite de devenir des plus frustrantes. Ne soyez pas trop riche non plus, parce qu'avec tout juste 10€ vous pourriez bien rentrer à la maison plus gâté qu'un jour de Noël.
With the unveiling of much anticipated products like
Bake frames
, CJ's
first ever pro skate
from Seba, the
Adapt X Be-Mag
collaboration boot, or the release of the full new Hedonskate collection, the trade show was a busy place all throughout the weekend. Only downside would be that there's little chance you'll find anything your size at the ever popular
Ucon
booth if you wear anything bigger than a size S. Side note: don't be too poor, or this will turn into a frustrating place when you consider all the crazy deals and bargains they have everywhere. Don't be too rich either, because with just about 10€ you could still get home with more stuff than on a Christmas day.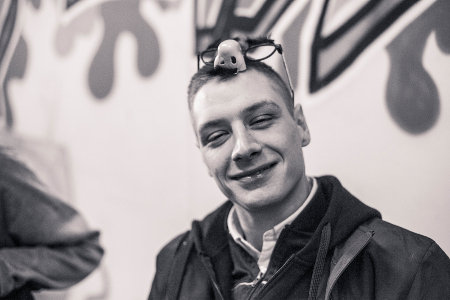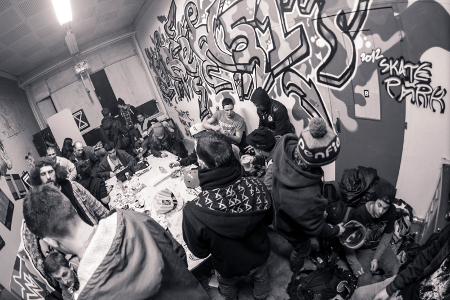 THREE - DON'T GET A MEDIA PASS
En tout cas, pas si vous espérez pouvoir bosser dans la media room, parce qu'elle s'est transformée en party room moins de 30 minutes après que Rémy Meister y soit rentré. L'air était à ce point chargé de vapeurs toxiques qu'y rester plus de quelques instants équivalait à prendre une soufflette en direct. Ne pas espérer être tranquille sur le park non plus. Le nombre incroyable de caméras et de vestes orange se bagarrant pour choper le meilleur angle devait être un peu déprimant quand on n'a pas de bases en arts martiaux. Cependant, à en juger par
les vidéos de qualité
qui sont sorties depuis, il devait y avoir quelques ceintures noires dans le park.
Or at least, not if you plan on getting shit done in the media room, because this one turned into the party room less than 30 minutes after Rémy Meister walked in. The air was filled with so much smoke that just standing in there would get you stoned in a matter of seconds. Don't get a pass if you hope to be alone on the course either. The incredible amount of cameras and orange vests fighting for the best shot would certainly be a little depressing if you haven't practiced some sort of martial art training beforehand. However, judging by the great amounts of
quality content
that came out since, it does seem like they were many black belts in the park.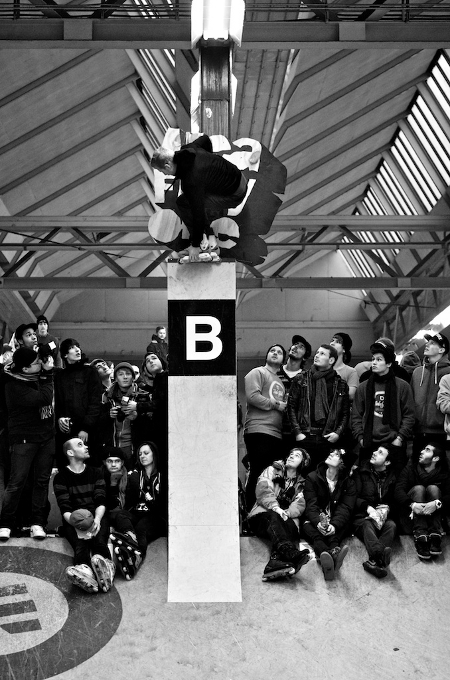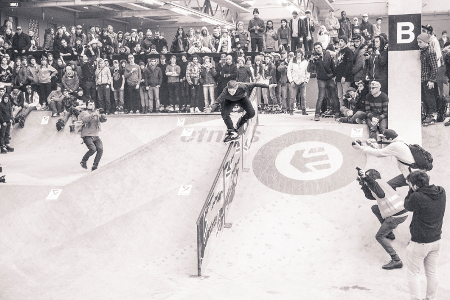 FOUR - DON'T BE A GIRL
Pour une fille, pas facile de rester enfermée dans un endroit comme l'Area51 pendant deux longues journées entourée d'un millier de patineurs masculins, quand le niveau de testostérone bat des records. Pourtant, cette année encore la compétition féminine a tenu ses promesses, et Chihiro a une nouvelle fois fait le trajet depuis le Japon pour remporter l'épreuve, avec des tricks comme un alley-oop top soul sur le rail, et un style à rendre tout le monde jaloux. Petite note: mieux vaut ne pas être un enfant non plus. Véritable succès, la toute première compétition des -16 ans a certainement dû attirer quelques émules de Jimmy Saville sur place.
Being locked inside a place such as the Area51 for two long days sure must feel weird when you're a female surrounded by a thousand rollerbladers and high levels of testosterone flying around. However, with yet another successful girl contest, the bladies sure held their ground, and Chihiro came all the way from Japan to steal the show once again, with tricks like an alley-oop top soul down the rail, and a style most everyone will be jealous of. Side note: don't be a kid either. The first ever under 16 competition was so sick I'm sure there must have been a couple Jimmy Saville emulators lurking around too.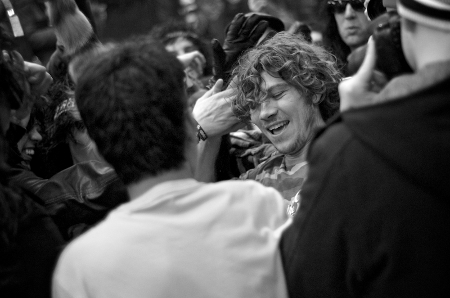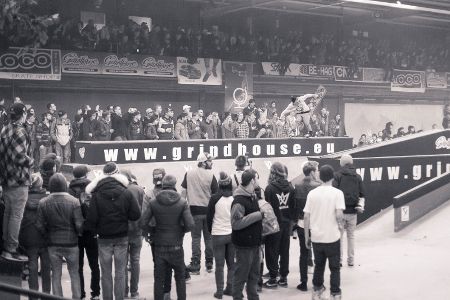 FIVE - DON'T BE SOBER
Bien sûr, il serait injuste de résumer cet événement à une succursale de l'Oktoberfest, mais il faut dire que la consommation élevée de bière et d'alcool fort contribue certainement à l'atmosphère incroyable du Clash. Sans parler des produits du jardin qu'on vend en boutique... Des sosies éméchés de Farmer aux lignes de Wagner en pleine gueule de bois, en passant par l'habituelle tribune de hooligans hollandais, l'alcool a pour effet secondaire de faire hurler la foule chaque année un peu plus fort. Alors n'y réfléchissez pas à deux fois et trinquez sans plus attendre. C'est l'événement dans son ensemble qui en bénéficiera.
Of course, it would be quite unfair to limit this event to some kind of Oktoberfest derivative, but it must be said that heavy beer & liquor consumption surely contributes to the incredible atmosphere of the Clash. Not to mention the green stuff they sell in local stores there... From the wasted Farmer lookalikes, or a hungover Dominik Wagner shredding lines on the course, to the usual Dutch hooligans' corner, alcohol induced behaviors make the crowd crazier & heavier every year. So don't think twice and crack a beer open already. The Clash as a whole will benefit from it.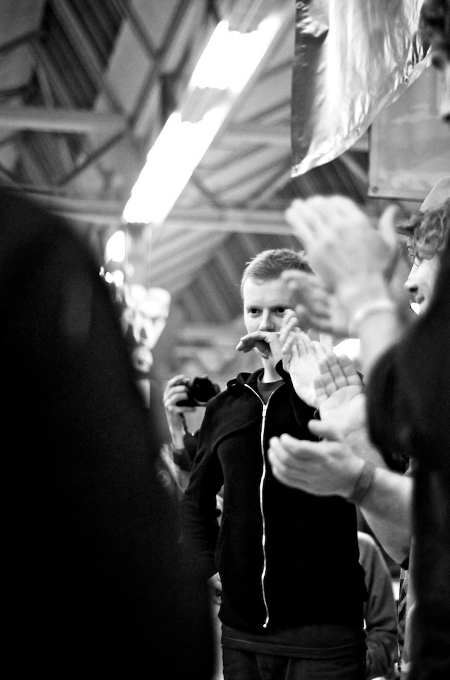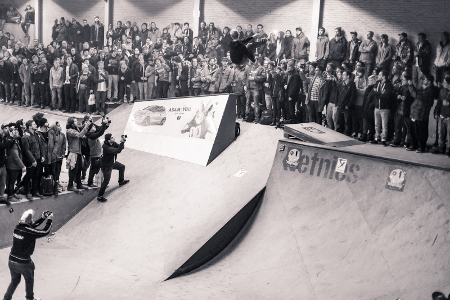 SIX - DON'T BOTHER FLYING IN FROM 'MURIKAH
Avec seulement deux participants inscrits chez les pros en provenance des États-Unis, on aurait pu regretter qu'il n'y ait pas plus d'américains pour faire le voyage à Eindhoven cette année. Seulement, après avoir assisté à l'une des finales les plus folles de l'histoire du Clash (et perdu ma voix dans l'intervalle), je doute fort que ça aurait valu la peine de prendre un billet d'avion de toute façon. Le niveau de patin était tellement élevé qu'il fallait en avoir sous le pied pour tenir son rang, et l'expérience montre qu'ils ne sont plus qu'une poignée à essayer. Avec des finalistes venant d'Allemagne, d'Australie, de Belgique, de France, de Hollande, du Japon, de Lettonie, du Royaume-Uni et de Suisse, c'est un signe fort que les temps changent. Et le changement, c'est maintenant.
With only two registered pro competitors hailing from the USA, one could regret they weren't more US professionals traveling to Eindhoven this year. However, after witnessing some of the craziest Winterclash finals ever (and losing my voice in the process), I highly doubt it would have been worth booking a plane ticket anyway. The level of skating was so high it would have requested some serious skills to compete against, and the past has shown there are only a handful still trying. With finalists from Australia, Belgium, France, Germany, Holland, Japan, Latvia, Switzerland and the UK, it's a sure sign that
the times, they are a-changing
. And it's a change for the best.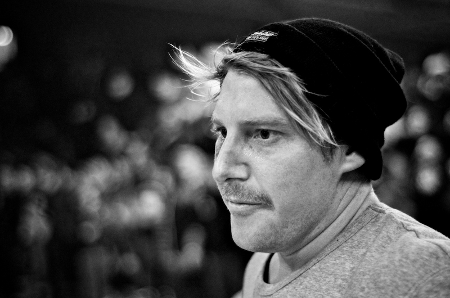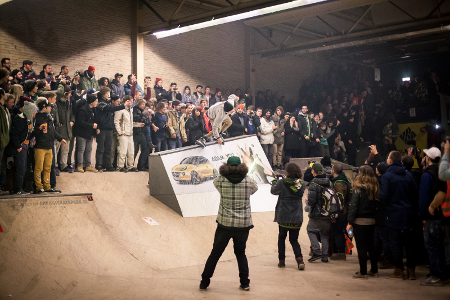 SEVEN - DON'T FORGET TO BOOK A TICKET NEXT YEAR
Rien à ajouter. Ne manquez pas l'un des meilleurs événements de l'année, rendez-vous en 2014!
Self-explanatory. Don't miss out on one of the best event of the year, and see you in 2014!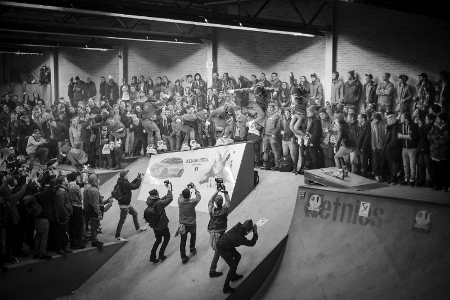 Photography by Nicolas Callens & Mathieu Hennebert, team work by Frenchy Fries.