MONTAGE : FABIO SOARES QUICK PARK EDIT
Par Frenchyfries, dimanche 8 mai 2011 à 17:32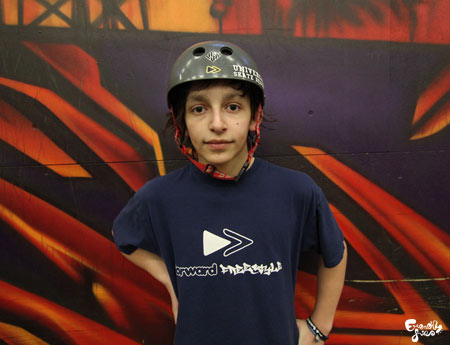 Si vous avez passé un peu de temps sur les patins, vous avez peut-être remarqué quelques changements dans la façon dont vous roulez, dans la façon dont vous concevez cette activité également. Ça n'est pas vraiment devenir vieux, simplement murir et évoluer en même temps qu'un sport qui est véritablement devenu notre. C'est aussi pour ça qu'il est si appréciable d'assister à l'apparition de nouvelles têtes aux jambes fraîches !
If you've been blading for a while, you might have noticed some changes in the way you skate, and the way you think about it, too. It's not really a matter of getting old, just maturing and evolving with a sport that truly became a part of us. That is also why it so great to see young folks coming up and stepping up the plate skating wise !
De jeunes patineurs aux dents longues émergent, et chez Frenchy Fries ça n'est pas sans une certaine fierté que nous avons vu vu Fabio Soares devenir meilleur de jour en jour. Alors que nous trainions nos corps fatigués au skatepark local pour nous retrouver, et parfois rouler, ce jeune tueur était à chaque fois présent, progressant sous nos yeux.
Hungry young bladers are coming up indeed, and Frenchy Fries sure takes pride in seeing Fabio Soares getting better and better every day. When our rusted old bodies were coming down to the local park to chill with the homies, and sometimes skate, this young killer was there every single day, progressing right before our eyes.
Aujourd'hui, Fabio se déplace sur de nombreux contests (et en gagne la plupart), et est sponsorisé par le magasin Belge
Forward Freestyle
. En compagnie de son frère aîné Louis, il ne semble pas prêt de s'arrêter. Nous sommes fiers de vous proposer sur Frenchy Fries la première véritable apparition de Fabio, et espérons qu'il y en aura bien d'autres à l'avenir !
Now Fabio has gotten to that point where he's traveling to contests (and winning them too), being sponsored by Belgian shop
Forward Freestyle
, and along with his older brother Louis, it seems that there's no way to stop those two. We're are glad to showcase Fabio on Frenchy Fries for his first online appearance, and we sure hope to feature a lot more of him in the future !