MONTAGE : NICOLAS AUROUX - 2009 PROFILE
Par Frenchyfries, dimanche 9 janvier 2011 à 21:37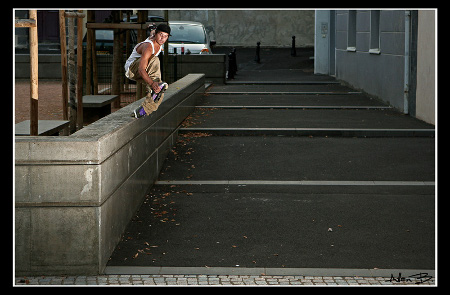 Il arrive qu'on entende parler de certains projets, et que des années s'écoulent avant qu'ils ne prennent réellement forme. C'est ce qui s'est passé avec l'edit que vous vous apprêtez à regarder, comprenant des images de l'été. Oh, pas l'été dernier, mais bien celui d'avant. À en juger par la qualité du skating cependant, il semblerait que
Nicolas Auroux
était déjà bien énervé en 2009 !
Sometimes you hear about certain projects, and then it takes more than a year before you seem them come to life. It happened with this edit you're just about to watch, which features clips filmed all throughout the summer. Oh, not this past summer, but the one before. Judging by the quality of the skating though, it seems like 2009 was a good year for
Nicolas Auroux
.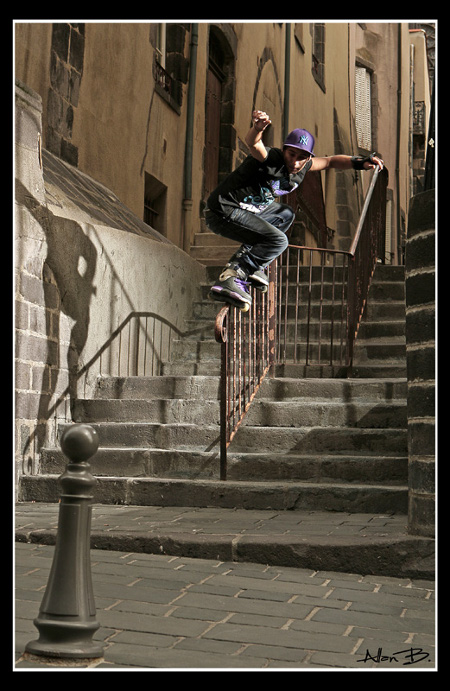 Alors qu'il filmait avec
Allan Beaulieu
, en grande partie dans la ville de Clermont Ferrand, mais aussi dans des lieux mythiques comme le bowl de Lausanne, Nico n'a pas fait dans la dentelle, et Allan a capturé tout ça sur bande. Avec d'autres projets en tête cependant, cet edit a pris du retard, et encore du retard, et il a fallu la motivation de Rafael Coutinho pour que cela prenne finalement vie !
As he filmed with
Allan Beaulieu
, mostly in the city of Clermont Ferrand, and also other locations like the great bowl in Lausanne, Nico laid down some serious hammers and Allan captured some great skating for sure. With some more ambitious projects in mind though, this edit got delayed, then delayed some more, and it took the great work of Rafael Coutinho to eventually make it come to life !
Au final, ces trois larrons ont chacun apporté leur contribution, et nous sommes heureux de vous présenter aujourd'hui ce joli profile. Nous voudrions remercier
Nicolas Auroux
pour le skating fâché, Allan Beaulieu pour les images et les photos, et Rafael Coutinho pour avoir monté de tout de bien belle manière. Et bien sûr, nous voudrions vous remercier vous, le spectateur. Bon visionnage !
Well, I sure am glad all these guys did their part, because today Frenchy Fries can finally present you this sweet profile. We would like to thank
Nicolas Auroux
for the rad skating, Allan Beaulieu for the filming and great pictures, and Rafael Coutinho for throwing the clips together in a rather pleasant manner. And of course, we'd like to thank you, the viewer, for watching. Enjoy !
Credits : filming and photography by Allan Beaulieu. Montage by Rafael Coutinho.