FRENCHY FRIES "TIBO" TEE-SHIRT NOW AVAILABLE !!!
Par Frenchyfries, dimanche 15 août 2010 à 19:06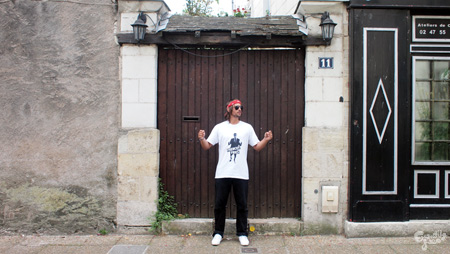 Frenchy Fries n'est pas une marque. Cependant, nous produisons des tee-shirts, pour nous, ceux qui nous soutiennent, et quiconque leur trouve un peu d'attrait. Ne pas être une compagnie, c'est parfait, parce que ça nous permet de négliger totalement marges et profit (inexistants à vrai dire) et de nous préoccuper simplement de la qualité du produit final.
Visitez la boutique en ligne et découvrez l'ensemble de la collection ici !!!
Frenchy Fries is not a brand. However, we do produce tee-shirts, for us, for our supporters, for whoever likes them and wants to look good. Not being a company is great, because we don't have to care about our profit or margins (which are non-existent by the way), only about raising the quality of the final product as much as possible.
Check out our online store and the many other tee-shirts by clicking here !!!
L'aspect : notre équipe s'est appliqué à vous apporter un design frais et croustillant. Parce que la qualité est notre préoccupation majeure, notre fabricant utilise les meilleures techniques d'impression, et le résultat est impressionnant! Par rapport à la série précédente, nous sommes encore monté d'un cran: même le rendu des cheveux est parfait, et peu importe le nombre de lavages, cela n'est pas prêt de changer.
The way it looks : our crew actually put a lot of effort into bringing you some fresh and crispy designs. Because quality is our main priority, we made sure our manufacturer was to use the best printing techniques, and the result is impressive! Compared to the previous series, we have gone up another step this time: Philippe isn't missing a single hair, and no matter how many times you wash your shirt, that isn't about to change anytime soon.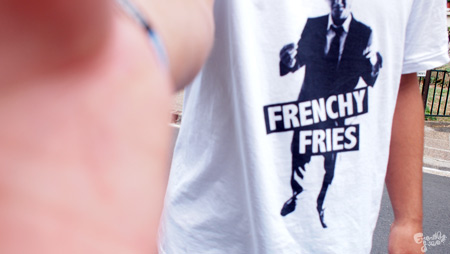 La sensation : ce tee-shirt Tibo a été imprimé sur une base American Apparel®, comme tous nos autres vêtements. Nous ne faisons pas seulement des habits pour que vous soyez beaux, mais aussi pour que vous vous sentiez bien. La qualité du matériau et la coupe parfaite sont la marque de fabrique American Apparel®, et c'est bien pour cela que nous les avons choisis. De la qualité prête à porter.
The way it feels : this Tibo tee-shirt was printed on a high class American Apparel® shirt, like all our other shirts. We're producing clothes not only for you to look good, but also to feel good. The quality of the material, and the perfect fit are exactly what American Apparel® is known for, and that's precisely why we chose them in the first place. Quality for you to wear.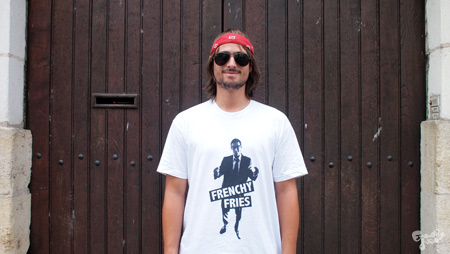 Frenchy Fries n'est pas une marque. Cependant, vous et votre soutien comptez beaucoup, et c'est pour vous que nous présentons aujourd'hui cette nouvelle collection. En espérant que ça vous plaise !
Visitez la boutique en ligne, découvrez l'ensemble de la collection et apprenez en plus sur la qualité Frenchy Fries en cliquant ici !!!
Frenchy Fries is not a brand. But still we care about you and your support, and we have worked hard to bring you this new collection. We hope you enjoy it !
Check out our online store and the many other tee-shirts, and learn more about Frenchy Fries quality by clicking right here !!!
Photo credits : all pictures by Cyril Blanc.