KULTURE : HOW TO MAKE THE CITY OUR OWN
Par Frenchyfries, jeudi 17 juin 2010 à 22:57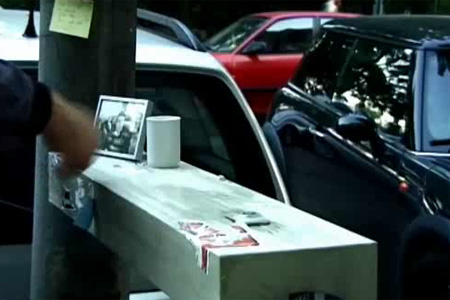 Dans ce merveilleux et coercitif univers qu'est la Cité, il existe depuis longtemps des groupes d'hommes et d'artistes recherchant de nouvelles voies, de nouvelles utilisations à ce qui est communément admis, et ainsi s'approprier réellement leur espace de vie, de travail, d'amour... Dans ce petit article, vous retrouverez quelques exemples d'œuvres artistiques récentes qui visent à atteindre ce même but. Bonne lecture !
In this great coercive world that is the City, for the longest time many groups of people and artists have tried to find other ways, other uses to what's commonly admitted, and thus truly make the place they live in, work, love... Their own. In this article, you will find some examples of recent artistic activity that's aiming at this very goal. So read on !
Fitting City - Urban Intervention from yo.anis on Vimeo.
Pour commencer, la vidéo ci-dessus vous présente une nouvelle réflexion sur la réappropriation de l'espace urbain, au ton assez humoristique. En effet, qui n'a jamais rêvé d'un petit diner au chandelle organisé et préparé sur une box électrique de la rue? Ce travail a été présenté lors d'un séminaire à Postdam, en Allemagne.
In the same sense, the piece of work featured above is a reflexion on that subject. This video is a presentation of some thoughts on how to make the urban world ours again, with quite a humorous tone. It seems like a fine diner and some candels on an electric box could turn on some senses! This work has been presented in Postdam, Germany.
En tant que patineurs à roulettes, nous apparaissons comme une parfaite représentation de tout cela. Il semble parfois que la Cité nous appartient véritablement, tout comme nous lui appartenons. Ces obstacles et éléments urbains conventionnels, que nous utilisons pourtant de façon si peu conventionnelle, ces choses que nous voyons, et qui n'existent même pas pour la plupart, parfois m'amènent à penser que nous sommes les vrais princes de la ville.
As rollerbladers, I feel we are a representation of that as well. Sometimes it feel like the city truly belongs to us, just like we belong to the city itself. The way we use conventional obstacles and landscapes, in a not-so conventional fashion, the way we see things that aren't even there for most, sometimes it makes me think we are the true masters of our cities.
Guerilla Bench: "Beziehungskiste" from rugwind on Vimeo.
Dans la même veine, ce travail de Niels Volkman, axé également sur la réappropriation de l'espace public. On y retrouve les mêmes thèmes et idées développées plus haut, et une réflexion qui s'apparente là aussi à la relation que nous-mêmes, patineurs à roulettes, entretenons avec le monde qui nous entoure, à la ville et à l'opportunité de s'y épanouir.
Same type of reflexion and work, this other piece by Niels Volkman is also focused on how to make public space ours again. Here again you can find the same themes and ideas we developped above, and a reflexion that's quite similar to the relation that us, rollerbladers, share with the world surrounding us, with the City and the opportunity for us to blossom in this very environment.
Plus d'infos à cette adresse /Find more information here :
http://nealsonsbook.blogspot.com/2010/04/die-beziehungskiste-ein-guerilla.html