MONTAGES : Q. MANDRON & S. MOSSELMANS
Par Jey, vendredi 11 juillet 2008 à 22:08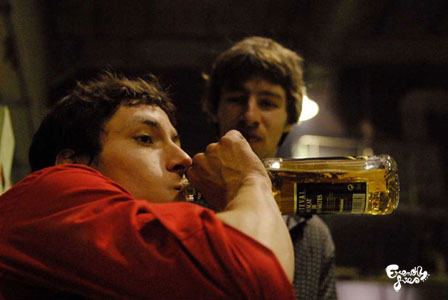 Quentin Mandron et Stéphane Mosselmans sont deux fortes têtes au caractère bien trempé. C'est pourquoi nous avons pensé, pour une fois, qu'il serait logique de les laisser se charger eux-même du texte de présentation de ce profile partagé, filmé à travers plusieurs skate parks de France et de Belgique par Samuel "Bodchoy" Courdent, et monté par ses soins quelque part entre la France et l'Irlande. Enjoy !
Quentin Mandron and Stéphane Mosselmans are two strong characters. That's why we thought that for once, it would make sense to let them take care of the editorial piece to present their shared profile, filmed in multiple skate parks throughout France and Belgium by Samuel "Bodchoy" Courdent, and edited somewhere between France and Ireland. Enjoy !
Stéphane Mosselmans par Quentin Mandron:
Je pourrais parler du skating de Mossel mais ça n'est pas très utile, ça se contemple, ça ne se décrit pas, et de plus Stéphane n'aime pas les éloges... Je pourrais parler de ma rencontre avec Mos et Greg (Defreyne) qui ce jour là ont inondé mes yeux de rêve, ou bien de sessions à Bruxelles, ou de la nuit qui se transforme en poésie. En fait je n'ai qu'un truc à dire... Allez tous vous faire foutre ! Vive le Nord, vive BX et vive Stéphane Mosselmans ! Bicky,drogue and Mos and roll !!!
Stéphane Mosselmans by Quentin Mandron:
I could talk about Mossel's skating but it makes no sense, that's something you have to watch by yourself, and Stephane doesn't like reading nice stuff about him… I could talk about the day I met him and Gregory Defreyne and how they filled my eyes with dreams, or about sessions in the street of Brussels, or about the night when it becomes pure poetry. Actually, I've only one thing to say… Go fuck yourselves ! Viva el Norte, viva Brussels and viva Stephane Mosselmans ! Bicky, drugs ans Mos and roll !!!
QUENTIN MANDRON & STEPHANE MOSSELMANS
from
Frenchy Fries
on
Vimeo
.
Quentin Mandron par Stéphane Mosselmans :
Il y a 5 ou 6 ans, j'ai rencontré Quentin Mandron. C'était à Lyon. Et c'est une des raisons pour lesquelles je l'aime vraiment : parce qu'il est Lyonnais. Et aussi parce qu'il de très longs, loooooonnnngs back royale, un peu comme Shima. En bref : si tu n'aimes pas Quentin t'es une merde ! Moi je l'aime, et je suis bien content de partager un profile avec lui. Quentin si tu lis ça : Merliche !
Quentin Mandron by Stéphane Mosselmans :
Five or six years ago, I met Quentin Mandron. It was in Lyon. And it is one of the reasons why I really love him : because he's from Lyon. And also because he does some long, looooonnnnng backside royale, kinda like Shima. Long story short : if you don't like that guy you suck ! I for myself do love him, and I am really glad to share a profile with him. Quentin, if you read this : Merliche !
Music: Kim Wilde "You keep me hangin' on"