LA BONNE BOUFFE : A NEW YORK MINUTE
Par Frenchyfries, mercredi 12 mars 2008 à 01:59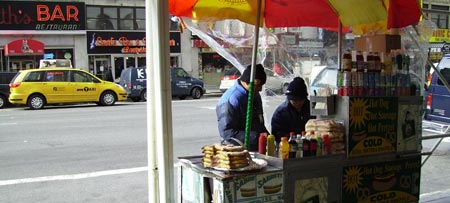 Voyager à ses avantages. Découvrir de nouvelles cultures, et par conséquent de nouvelles cuisines, en fait certainement partie. De nombreux films ont utilisé New York comme un matériau à part, et l'aspect culinaire transparaît dans nombre de ces films. Ainsi, passant quelques jours a New York, je n'avais d'autre choix que d'en faire à mon tour l'expérience.
Traveling the world has its perks. Experiencing different cultures, and therefore, different type of food, is definitely part of it. Many movies have used New York City as a material of its own, and the food aspect was certainly featured in more than one of these movies. So while spending a few days in that incredible city, I had no choice but to experience it for myself.
La seule chose que vous verrez autant que les innombrables taxis jaunes, ce sont les vendeurs de Hot Dog. Ils sont partout, à chaque coin de rue (litteralement). Et s'ils sont si fameux et populaires, c'est pour une raison…
The only thing you see as much as yellow cabs in the streets of New York are the Hot Dog booths. They definitely are everywhere, at every corner of each block. And there are that famous and popular for a reason…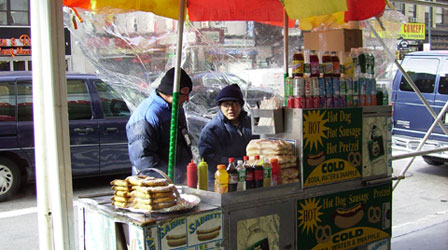 Une très bonne raison, il est vrai. Ca ne prend jamais plus de 30 secondes pour que votre commande soit servie, et ça ne prend pas plus de deux dollars pour vous faire plaisir. Une saucisse fraiche, un morceau de pain blanc, moutarde et/ou ketchup et/ou sauce chili en guise d'accompagnement, et le tour est joué. Bien sur, il en faudrait plus d'un pour faire un vrai repas, mais c'est définitivement bien utile pour contenter provisoirement votre estomac lors de vos courses à travers la folie de cette ville.
A very good reason indeed. It never takes more than 30 seconds to get your order served, and it never takes more than two dollars to please yourself. A fresh sausage, a piece of sweet bread and mustard and/or ketchup and/or some chili, and you're all set. Of course, it would take more than one of these babies to make a real meal, but that's definitely really helpful to keep your stomach quiet when you're running through the madness of the city all day long.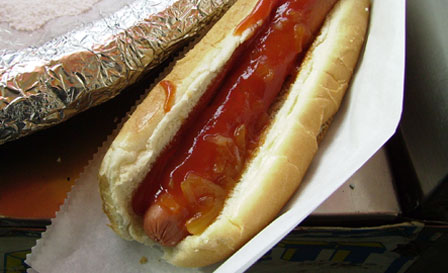 Si vous avez un peu plus de temps, et l'envie d'un repas plus consistent, l'étape suivante consiste à vous arrêter dans l'un des nombreux restaurant proposant des pizzas à la part. Fraichement préparée, la recette de votre choix ira rejoindre le four quelques instants, avant d'être dégustée à votre facon. J'ai personnellement choisi un classique, une part de pepperoni pizza, sans doute pas la meilleure que j'ai dégusté mais fort appréciable néanmoins, et une poulet & champignons, fraiche et délicieuse.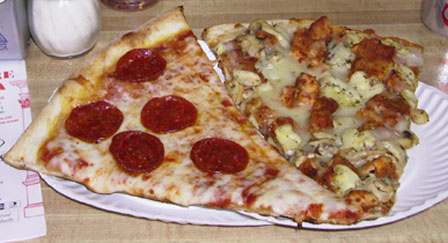 If you have a little more time and the need for a more consistent meal, the next step is stopping by one of the many Pizza places around, and having a seat to enjoy some slices of Pizza. Freshly baked, the recipe of your choice will get back to the oven a few seconds, before being served and enjoyed your way. I chose some pepperoni pizza (a classic), which wasn't the best one I've ever had but was still pretty good, and a chicken & mushroom slice, which was fresh and delicious.

Quoiqu'il en soit, le choix est (Presque) infini, en fonction des endroits variés et des préférences des cuisiniers, et je ne doute pas que vous trouviez un restaurant à New York pour satisfaires vos fringales. Promenez vous simplement dans les rues bondées, le Bonheur est partout. Il suffit de vous arrêtez et de faire vos propres expériences !
Anyway, the choice is (almost) endless, depending on the various places and various preferences of the cooks, and there's no doubt you'll find a place in New York to satisfy your hungry times. Just cruise through the intense streets, heaven is everywhere. Just stop by and experience it for yourself!
Empire Pizza, 314 sur la Cinquième Avenue. Vendeurs de Hot Dog, partout et même plus !
Empire Pizza, 314 Fifth Avenue. Hot Dog booth, here and everywhere!