MONTAGES : ROLL'IN CLERMONT 2007
Par Frenchyfries, mardi 29 janvier 2008 à 15:17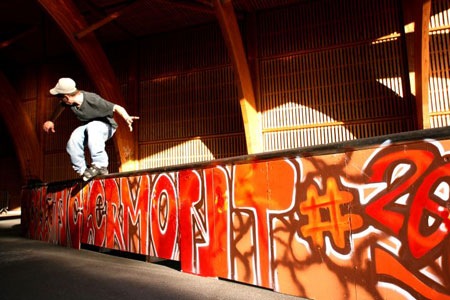 Le Roll In Clermont est un contest à part, tant il est rare qu'un événement aussi « local » attire l'attention de skaters habitant aux quatres coins de la France...
The « Roll In Clermont » contest is an event of its very own kind, since a so-called « local contest » can drive the attention from skaters living all around the country.
ROLL'IN CLERMONT 2007
from
Frenchy Fries
on
Vimeo
Organisé par les forces vives de la population à roulettes de la ville, regroupés au sein de l'association Easyride63, sur leur propre skatepark qu'ils agrémentent au prix de leur sueur et de nombreuses heures de travail de modules supplémentaires, ce contest se démarque par la bonne humeur qui l'entoure. Après les éditions des années précédentes qui ont vus bon nombre des meilleurs skaters du pays s'affronter à coup de transfert dans tous les coins du park, il était donc peu étonnant de voir cette année encore les forces vives du patin hexagonal faire le voyage sans hésitation, quitte à traverser le pays depuis Lille ou bien Nice, voire même depuis la Belgique pour les plus aventureux.
Organized for some years now by the skaters of this town located in the center of France, surrounded by dead volcanos, associated under the name Easyride63, the event takes place each year on their own skatepark, with the addition of homemade boxes and other various stuff built with their time and sweat. And each year, this contest is made even more successful thanks to the amazing kindness and happiness that surround the whole event. After the previous editions that have witnessed most of the best skaters from all around the country battling it out on every possible transfert to be made in the park, it was not much of a surprise to see all the heads coming back in Clermont Ferrand, once again, travelling without even hesitating from the extreme north (Lille) to the extreme south of the country (Nice), and sometimes even further (Leuven in Belgium, for instance).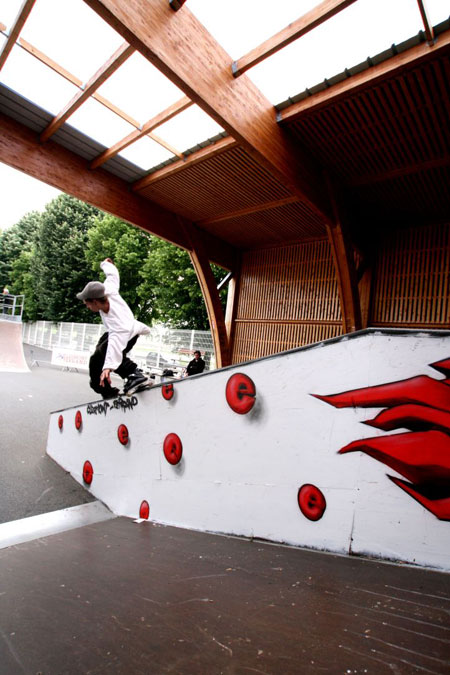 Sylvain Rigaud - True top soul
Et comme les années précédentes, cette édition 2007 a séduit. Séduit par la bonne humeur des organisateurs qu'ils ont su communiquer à toute l'assistance, séduit par la qualité du skating prodigué au cours de ce week-end, avec des prestations remarquées du jeune prodige Julien Cudot qui remporte le contest de mini et monte sur la deuxième marche du podium pour le park, ou encore l'excellent Sylvain Rigaud qui a représenté brillamment la ville avec un style et une technique sans faille, remportant ainsi le contest. Séduit enfin par ces rencontres hétéroclites, ces gens venus de partout et d'ailleurs, avec parfois un sac à dos pour tout bagage, et par ce soleil qui nous est resté fidèle pour ces deux jours de folie dans une ambiance à la hauteur de toutes les attentes.
And just like previous editions, this 2007 contest was a success. A success, because of the great people in charge of organization and their enthousiam. A success, because of the incredible level of skating seen at all times during the week-end, with really good runs from the young prodigy Julien Cudot who wins the miniramp contest and takes 2nd place in the park competition with constant hammers and perfect landings, or the hometown boy Sylvain Rigaud who represented Clermont to the fullest, with a flawless, technical skating mixed with an extremely smooth style, finally taking 1st place. A success, at last, because of all the people you get to meet, because of the parties, because of these people coming from everywhere and even further, sometimes with only a backpack and their pair of skates, and a success, because of the sun who remained a great ally for these 2 days of madness in an incredible atmosphere.